All the photos in this gallery are from VEET's Spray On Soiree with Shontelle at the M2 Ultra Lounge in New York City on Wednesday, May 6th, 2009. No pictures or material may be reproduced without written consent from the owner.
____________________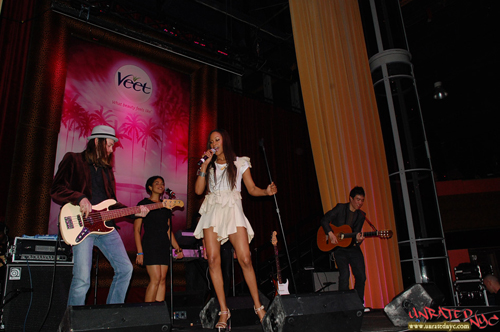 Photos by Sam Frank
**Click on any picture to initiate Lightbox Gallery.
(c) UnRated NYC 2009
____________________
Shontelle showed off her touchably smooth legs as guests enjoyed the latest offering from Smirnoff(R) Ready to Serve Cocktails – Smirnoff(R) Tuscan Lemonade and chocolate from M&M'S(R) Premiums. Raffles were held throughout the night giving attendees the chance to meet Shontelle and win ultimate prize packs. The first 1,000 attendees received exclusive gift bags filled with products from VEET(R) and event sponsors, Smirnoff and M&M'S(R) Premiums.
About VEET(R)
VEET(R) helps women radiate sexy femininity through beautiful, touchably smooth skin. With Creams and Waxes designed for different skin types, VEET(R) leaves you long-lasting smoothness without nicks or razor stubble. VEET(R) is available at all mass and drug retailers throughout the US including Target, Wal-Mart, Rite Aid, K-Mart, CVS & Walgreens. VEET(R). What beauty feels like.(TM)
About Reckitt Benckiser
With over 15 known Power Brands in 180 different countries and net revenues in excess of $9 billion, Reckitt Benckiser is one of the largest consumer products companies in the world, with the following brands in the US: LYSOL(R), WOOLITE(R), AIR WICK(R), VEET(R), CLEARASIL(R), SPRAY 'n WASH(R), NEUTRA-AIR(R), ELECTRASOL(R), and FRENCH'S(R).
About Smirnoff(R) Cocktails
Smirnoff(R) Tuscan Lemonade is the newest, ready-to-serve addition to the brand's Cocktails Collection, which already includes Pomegranate Martini, Vodka Mojito and Smirnoff Grand Cosmopolitan. Made with Smirnoff(R) 21, the world's best-selling premium vodka in the world, Limoncello liqueur and hints of lemon and citrus, Smirnoff Tuscan Lemonade recreates a true cocktail experience inspired by the world's greatest mixologists.
About M&M's(R)
M&M'S(R) Premiums are collection of shimmering chocolate gems that provide a colorful new way to experience premium chocolate – as a treat for yourself or to be shared with friends. M&M'S(R) Premiums are rich with layers of flavor and a soft shimmering shell. These "dressed up" chocolate candies taste as good as they look. The five varieties of M&M'S(R) Premiums are seriously good without being serious: Raspberry Almond, Mint Chocolate, Chocolate Almond, Triple Chocolate and NEW Dark Chocolate. The six-ounce M&M'S(R) Premiums gems are available nationwide in food, mass, convenience and drugstores for a suggested MSRP of $3.49. For more information on the entire line of new M&M'S(R) Premiums products, please visit www.mms.com.