By Lindsay Wallace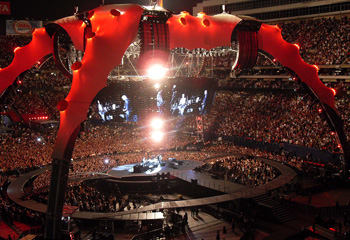 On Wednesday, September 23rd, the legendary U2 graced New Jersey with their first of two shows at Giants Stadium. For fans, seeing U2 live in concert is a downright religious experience. But for those who haven't been able to catch them on the 360 tour, the best way to describe it would be along the lines of "strikingly beautiful" or "just plain awesome".
Bono is one of the few performers who has the power to lure you into his own personal world and evoke emotion in the audience with a lyric, a gesture, a comment, or maybe even a hug (he generously picks out fans from the audience to walk the stage with him as he sings). Always evolving, Bono's world is a lot different from our world.
In Bono's U2 Land, there are 150-foot tall spaceships with four legs for stages and rotating bridges wherein Bono can literally float overtop your head as his stunningly beautiful voice crones, "Oh, you look so beautiful tonight, in the city of blinding lights…"
Walking into Bono Land at Giants Stadium, you first notice that the band has created a futuristic stage designed to look like a multi-colored space ship that takes up half the stadium field. The enormous venue is packed with over 80,000 people. After much anticipation, the field lights dim down and U2's stage lights up as David Bowie's "Space Oddity" begins to echo loudly out of the speakers, building to a very loud crescendo. "Ground control to Major Tom, check ignition and may God's love be with you—"
The spaceship-stage lights up with smoke and dazzling lights- it literally looks and feels like it's about to take off and leave us all behind, watching in awe of the spectacle before us. All of this brings us to the band's arrival on the stage, one by one. Once there, they jump right on into a two hour set full of old hits, new hits, and some lovely surprises along the way.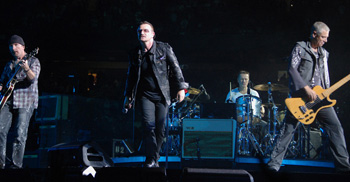 Halfway through the show, Bono announces that it is Bruce Springsteen's 60th birthday. We are in New Jersey, after all. He wishes the Boss a happy birthday with his horses (Springsteen lives on a farm not far from this very stadium) before launching into a rendition of "She's the One," except this is a tribute to the Boss, so he changes the song to "He's the One". Bruce must have been smiling wide, wherever he was during this cover. The band used this to segue into their own song, "Desire," making this even more of a unique experience.
Before beginning "I Still Haven't Found What I'm Looking For", Bono tells everyone to "Sing it for Bruce!" which this crowd certainly had no problem doing. Imagine a chorus of over 80,000 people singing in harmony, "I have scaled these city walls, only to be with you/ But I still haven't found what I'm looking for.." One word describes this experience well, and that is "awesome".
Another little priceless nugget was when Bono announced that Quincy Jones was in attendence. After dedicating "Beautiful Day" to Quincy, Bono sang a tribute to Michael Jackson, "Don't stop till you get enough.." When the band launched into "City of Blinding Lights", magnificent strobe lights shone up into the heavens, illuminating the clouds in the dark sky. Little flickers of light shaped like doves danced around the entire audience in the stadium. That's one thing really notable about a U2 concert – the audience is one of the band's biggest assets because they become a part of the show itself, like a prop.
Bono need not even open his mouth during songs like "Mysterious Ways" or "Stuck in a Moment," as the audience does all the singing for him. Being a part of this spectacular event is truly amazing. Opening with "Breathe", the Irish rock master absolutely stellar set comprised of new songs from their latest album No Line on the Horizon, rarities such as "Your Blue Room" and "MLK", and some of their most recognizable hits such as "Beautiful Day" , "Sunday, Bloody Sunday", and "Elevation."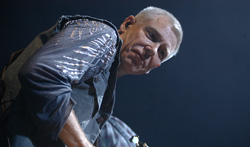 The tour is aptly named 360 Degrees due to the fact that the stage is entirely open in a circle, with rotating bridges that bring the band from the center circle to the outside ring. It kind of resembles the planet Saturn with a giant spaceship planted on top of it. The stage, illuminated with various different lights and colors, housed a giant wrap-around screen for the entire stadium to see.
The space-age theme for this tour is made light of as Bono jokes "One step for a small man.." while crossing one of the bridges. However, Bono's physical stature is insignificant when you compare it to the image of this larger than life rock star whose constant humanitarian efforts have literally changed the world. Bono is known to speak out for political and humanitarian issues, so it is inevitable that there would be a moving effort made during each show to help change the world.
This time around, the band dedicated "Walk On" to the Nobel Peace Prize winner from Burma, Aung San Suu Kyi. She was elected Prime Minister of Burma in 1990 but a military junta prevented her from taking power and she has since been under house arrest. Approximately seventy volunteers walked the outer ring of the stage wearing masks of her face. Additionally, he updated the audience with news from the One Campaign, noting that other campaigners such as Matt Damon were also in attendance tonight.
Seeing U2, the biggest band in the world, rock 80,000 people at the Meadowlands was an awe-inspiring experience that'll be with me forever.