Painted on Water is the title of both the band and the ambitious new recording project featuring Sertab Erener, one of the most eminent voices in Turkish pop music, and Turkish rock star, Demir Demirkan, her producer, arranger and songwriting partner. The album, with lyrics in English, combines traditional Turkish folk song with American jazz, pop/rock and blues and features guest appearances by such A-list musicians as jazz guitar giants Al Di Meola and Mike Stern, bassist Kai Eckhardt, keyboardists Alan Pasqua and Tulug Tirpan, drummer Dave Weckl and percussionist Trilok Gurtu. The classically trained Erener is the first and only Turkish artist to win first prize in the esteemed Eurovision competition, with "Every Way That I Can," a song she wrote with the multi-talented Demirkan, who has released 6 albums and 2 film scores, one being a recent Critic's Award Winner.The self-titled album project by the duo of vocalist Sertab Erener and composer/guitarist Demir Demirkan, is more than a breath of fresh air – it's one of the year's unexpected pleasures, a unique excursion through jazz, rock and the duo's own Turkish musical and cultural heritage. The album dropped June 9th, 2009. Produced in Los Angeles and Istanbul by Painted on Water's Demirkan and nine-time Grammy winner Jay Newland (Norah Jones, Herbie Hancock, Charlie Haden, Michael Brecker), PAINTED ON WATER moves in a warm, fluid, and organic way between jazz, modern rock, and pop-flavored vocal compositions featuring Erener's sensual, evocative lead, and fusion-jazz instrumentals anchored by Demirkan's guitar. Each of the album's songs is inspired by the melodies of Turkish Anatolian classical and folk music, with English lyrics written by Demirkan and by veteran No. 1 songsmith Phil Galdston (Madonna, Celine Dion, Vanessa Williams). (pull)Naming their band and the album after the traditional Turkish marbled-paper art known as Ebru, created by floating dyes on the surface of water, PAINTED ON WATER demonstrates the shifting, tangible and intangible qualities of music, emotion and art.(/pull) The duo's upcoming American appearances promise to be rich The album's all-encompassing concept has already been mightily refreshing to long-time followers, says Erener. "We've performed twice as Painted On Water for the Turkish audience. They felt this familiar melody, but couldn't put their finger on the song right away, because of the English lyric." There's a feeling of renewal in this new collaboration of longtime partners, adds Demirkan. "Previously, I was Sertab's songwriter and producer. We set our pop and rock background aside, and this is the first result – not Sertab, or Demir, but a new band."
Erener and Demirkan are among Turkey's most celebrated musicians. Erener's 12 albums have sold in the millions in Turkey, and as far away as Japan. Guitarist, composer and PAINTED ON WATER album co-producer Demirkan became one of Turkey's true rock stars in the Istanbul heavy metal band Pentagram. He has released three solo albums and two film scores. He and Erener co-wrote the 2003 international hit, "Every Way That I Can," Turkey's first and only winner in the history of the Eurovision Song Contest .
___________________________________________________
All the photos in this gallery are from Painted On Water's CD RELEASE CELEBRATION New York City's sleek LE POISSON ROUGE on Tuesday, June 16th, 2009. No pictures or material may be reproduced without written consent from the owner.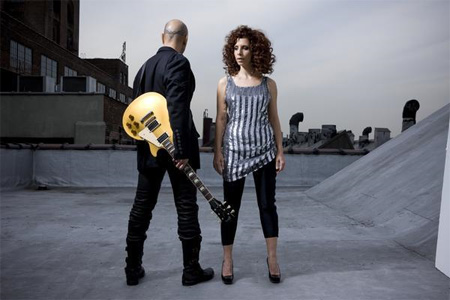 Photos in gallery by Sam Frank
**Click on any picture below to initiate Lightbox effect.
(c) UnRated NYC 2009
All images are copyrighted.