You might say that AM is an artist who brings together the best of all possible musical worlds, rippling through classic roots sounds — AM pop and rock, obviously, and English Invasion stuff, or steamy soul/R&B persuasives and more and more of late the aerified melodic athletics of Brazil's post- bossa nova tropicalistas. Yes, you might say that, but putting it that way, one risks sounding kinda corny. That is, a lot of musicians pay lip service to having a plethora of farflung musical "influences," but then you listen to their music and it sounds like they've done their best to avoid them at any cost. Future Sons & Daughters is a cornucopia of head-turningly unusual sonic colors and shapes that manage to stamp themselves on one's psyche like they've been there all one's life. Yet these songs are footsteps into unknown territory, like a tantalizing glimpse at a promising future-pop. "A Complete Unknown"'s peppy, heavily reverbed jaunt along a minor-key melody and twangy guitar has the slapback vocals like the Sun Records and John Lennon of old, and a peculiarly resonant way of being upbeat and lost in reverie at the same time.
It's "The Other Side"'s distant guitar twang and tinkling piano doubling on the verse's vocal melody that establish the song's connections with classic American roots sounds. On "Darker Days" it's all string-sheened Philly soul, shades of Hall & Oates, perhaps, yet so moody again, so pensive, sweet and slightly sad. An instrumental tribute to AM's idol Jorge Ben pays indirect homage to great Brazilian tropicalista, yet is remarkably free of bossa nova-type clichés. With the memorable choruses and surprising bridges of the pensive chimes-sprinkled "Leavenworth" or the acoustic guitar and organ laced "When the Dust Settles," we know by album's end that we have just experienced the art of perfect pop song construction. Listener, stop to savor how AM keeps every instrumental break short and interesting, too, where each song is continually repainted in different colors; that has the effect of extending the emotional terrain, whether with mandolins, strings, synth, trumpet or funky old hollow-body guitar.
Future Sons & Daughters is AM's newest album, following 2006's Troubled Times, which was named one of the best indie albums of the year by iTunes and from which every song was culled for use in movies and TV shows, such as HBO's Big Love, ABC's What About Brian, and MTV's The Real World; Soul Variations followed in 2007, along with an EP of duets called Side By Side in 2008 – you might have heard that on your last visit to Starbucks, 'cause it's on their playlist. Recorded and produced by Charles Newman, who's worked his magic with Magnetic Fields, among others, Future Sons & Daughters is really a full flowering of AM's singular gifts, as a guitarist, for sure, and as an arranger with an almost uncannily great taste in the fresh refashioning of a vast host of musical sources. The recording involved a very strategic use of vintage guitars, amps, mics and mixing console to give AM's moody heartbreakers a warmly inviting sound that wouldn't attack the ears so much as seduce the listener into repeated plays.
"Most of the time the ideas will come to me as a basic melody, and when it hits, I grab it. I record everything I think of into this little tape recorder. This time, once I had a group of songs together, I started working with Charles Newman in his Silverlake cottage, which incidentally was one of Elliott Smith's early dwellings. The vibe was great in this place."
Once the songs were fleshed out, AM finalized the shapes of his songs by jamming with Newman, then he and his band hit the studio, where they layed down the bass, drums and rhythm guitars in two days. Then the fun started. "The band really delivered on this album. Before we got together to go over the songs I made everyone in the band a hand picked playlist of everything I had been digging on in the last year, obscure Italian soundtracks and Brazilian music, psychedelic Turkish folk, deep cut soul and groove. Incidentally Mark Getten, my bass player, had started to take lessons from Carol Kaye (who played bass on The Beach Boys "Pet Sounds" among a slew of other classics) so he was already expanding his skills. The bass was so important on this record as it really defines the groove. I tried to push Mark out of his comfort zone a bit. We borrowed some late 60's Hofner hollow-body basses, a late 60's Ampeg B-15 amp (a favorite on Motown recordings)…and I made him play with a pick on most of the songs. All things he wasn't used to, but he of course just killed it in the studio."
Chris Lovejoy's conga playing was equally as essential and Jesse Nason's multitude of synths and organs give the record it's moody overtone. Butch Norotn (of Eels and Lucinda Williams fame) laid down the drums. Even the casual listener will prick his ears at the evocative guitars on Future Sons & Daughters, culled especially from guitar-freak pals and AM's own collection of vintage classic axes. "None of the guitars on the album date from before 1969," he says passionately. Vintage instruments heard in the recording include the 1960s vintage sunburst Silvertone used on "Darker Days" and a heavy-twang 1966 Gibson ES 330 on the haunting "When the Dust Settles" and the Orbison-esque "The Other Side". A guitar player, singer, multi-instrumentalist and startlingly gifted songwriter, the Los Angeles-based (Echo Park) AM in sum is a fresh-eared maker of great, new pop music amid whose considerably varied skills you'll always hear a lot of just plain old funky soul. Could be he absorbed a lot of that when he was growing up in New Orleans.
"I've been playing guitar since I was a kid, like 13, I guess," he says. That's the age when AM moved with his family from Tulsa, Oklahoma. "Our house had lost value; then my dad lost his job. It was a real low point for all of us in the family because we'd lost everything; when he found work in New Orleans, it was time to move. My dad put us up in a little town called Mandeville, right outside of New Orleans." While Tulsa has its own fine line in great American country and rock roots traditions (J.J. Cale, Leon Russell), turns out that moving to Louisiana was the best thing that could have happened to AM, artistically and creatively. "My whole life had been uprooted; friends, family, that was all still in Tulsa. My parents were born and raised there. It was hard on all of us," he says. "I was like, I hate this place! But that's normal. Mandeville/New Orleans was so different from Tulsa and sometimes it takes a while to realize that different is good. It's like when you first hear a record from your favorite band and their trying something new, you don't get it. Then after a few listens you love it. When you give it some time you say I see where they're going with it. Same thing with Mandeville and later New Orleans. Once I realized what I was around and involved with, I loved it."
AM found a way to cope with his new surrounding by holing up in his bedroom, "playing a lot of guitar, listening to Led Zep songs; just noodling and occupying my time. While at that point he was still too scared to play live, nevertheless AM got his first taste of public performing when he was threatened with bodily harm if he didn't get his butt up on the stage.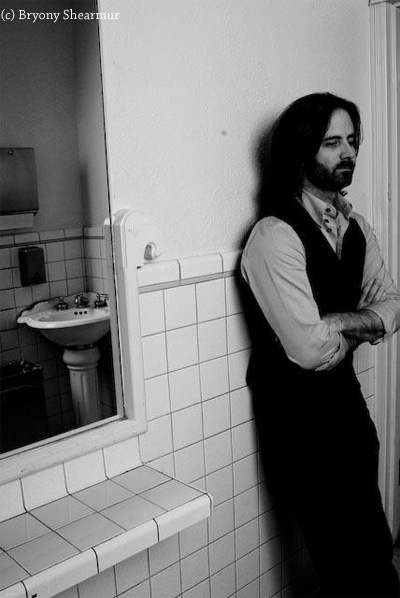 "This bigger kid came up to me – at first he wanted to kick my ass, that was the rumor around school – and he demanded that we play the talent show at Mandeville Jr. High. So we played 'Paranoid' by Black Sabbath and a couple other songs, just drums and guitar, no words. But two weeks before the show he got expelled. So I found another drummer and he pulled it off. It was the most nerve-wracking experience of my life."
"Later a high school friend demanded that we start a band, so we did, and it was a lot of fun. We played in bars all over the Northshore (Mandeville, Covington, Slidell, etc), we had groupies, and I was making more money then than I was my first couple of years as a solo artist – I was in a town where young people needed something to do besides go make out at the movies or drink beer on the lakefront." While in high school one of the more definitive moments for AM was when he started working at a music store in neighboring Covington, Louisiana, where a lot of the acoustic and bluegrass scene regulars would gather and play, and from whom AM took guitar lessons. "It was a great expander for me, because I was pretty much into rock & roll in high school, but then working in that store opened my eyes to a broader palette. Later when I moved to New Orleans to go to college (Loyola University), I was thrown into the groove world, jazz, R&B, soul, and all of that stuff started to weave its way into my palette."
"I think that's when the soul and funk bug got me. I think if somebody were to listen to my music, the part of New Orleans that you hear in it is that groove. That's what I've taken from New Orleans above all else." As a songwriter, AM shows rarest skill at the old-fashioned craft of pop composition. While his songs bear enduring links with emotional fabric in the pop-rock canon of the '60s and '70s, he's stretching that canvas considerably in his structural, melodic and harmonic language. N
"Song-structurewise, I'm still a pop writer — though the definition of pop is so elusive," he says. "I just respond to the '60s and early '70s. That is what I grew up on — my father's record collection was '60s-'70s pop and rock, and that stuff was just perfection in my eyes. Film and music were becoming more "artist centric" and so experimentation was fresh, but people still had that craftiness of the prior generation. In recent years I've become much more interested in what was going on all over the world in that era; it was just such a fertile time. What was going on in Brazil, Germany, Italy, even Turkey in the late '60s and 70's? Come to find out some of the most mind blowing music I've ever heard. The whole world was experimenting like crazy." "While in college I dove into R&B, soul, funk, and I'd see Maceo Parker whenever he was coming through town, and guys like Walter Wolfman Washington in New Orleans, just total groove, funk, dirty soul, and that's still some of my favorite music to listen to. I do the best I can to put what I'm listening to into my own music but, obviously I'm not a soul singer. I do what I can to pay my homage to that music without copying it. It's impossible for me to directly cop from that, I can't sing like that."
So on Future Sons & Daughters it's AM's very personal brand of soul we're talking about, and while it's a relief that he doesn't affect soul styling as such in his vocals, his affecting croon is without a doubt a soul-satisfying thing to hear. AM's songs reveal an artfully considered blending of classic American and English roots and rock influences, from the Beatles and Badfinger to Roy Orbison, James Brown, Alan Toussaint and Elvis Presley, but that's just the tip of it, and in recent times he's swayed by the high-flying melodic and harmonic gambits of such Brazilian legends as Jorge Ben. He ultimately, conveys the comforting heart-tug of a simple pop song sung with sincerity, not irony, and he takes you by surprise at the pop form's infinite capacity for expressive reinvention. One inescapably comes to the same conclusion: This is such intelligent stuff, and it all just feels so good. In the end, it's the emotive power of AM's songs that etches them indelibly in the mind, and wraps them around the heart. But then, how exactly it is that certain songwriters conjure such magic will always remain shrouded in mystery. Let's say that AM is just like that; it's in his blood, and there isn't much even he can do about it — except continue to blow us away with the brilliance of his songs.