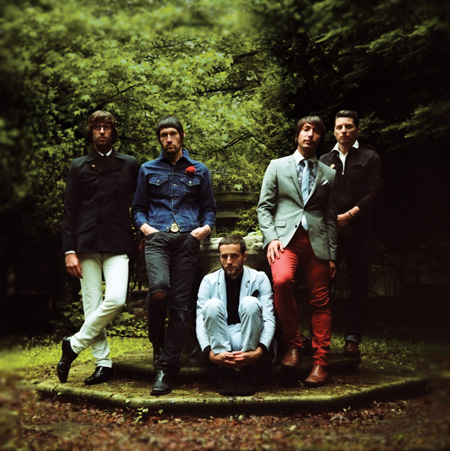 We finished touring last summer and immediately returned to the world of writing and recording. There was a new sense of vigor and excitement. We'd never felt more excited to be making music. I wrote songs frantically, all the time. I would go out and come home in the morning with my pockets full of napkins that I'd written lyrics on. The songs were darker, stranger. I have often written about rage and violence, but I never put these things into the music before, like it was something I preferred to pretend didn't exist. But more and more it was bubbling to the surface. I came home one day to find that my long-time girlfriend had attempted to kill herself. The ambulance came and she lived, though she was confined to a mental hospital for a while.
This had a profound effect on me. It left me very angry. The songs got darker, some of them even violent (like "Hatefuck" and "Jack-O'-Lantern Man," for example.) Other songs became incredibly intimate, more than I'd been able to write in the past ("I Am Your Skin" is a good example.)
We began working with John Hill. He and I had been friends for a few years, and we would make beats and shit on the side. We had always talked about working together on the next Bravery record and eventually it came true; he and I co-produced the album. The band moved into an abandoned church in the woods of Woodstock, NY. We lived there for a while and just recorded as much as we possibly could. Tracks upon tracks upon tracks; songs became buried under mountains of sonic randomness. Everything under the sun. John brought new textures to the sound, effecting keyboards and guitars and new ways that we'd never thought of. The music became dreamier, more ambient.
Then we returned home and began the "remix" portion of our recording. We dug and dug through the mountains of sound, found the Easter eggs, cut them up, rearranged, manipulated. There are some tracks where no one knows who recorded them. For example, the main Wurlitzer riff in "Sugar Pill"- no one remembers doing that. I just found it in the tracks one day. Songs began to immerge. It felt like getting back to our roots, in a sense. Working in a very haphazard, homemade way. Electronic, but in the basement. There was a great sense of energy, like the first album. But like the second album there is a wider range of style. (For example, slow songs like "Sugar Pill" and "She's So Bendable." "Bendable" was written by Mike [bassist] by the way, and features him on lead vocal.)
During this period we all started to branch out creatively, as well. John Hill and I wrote the song "She Wolf" with Shakira, which became a big international hit. We wrote several other songs for her upcoming album as well, and worked on songs for a number of other artists (none of which have come out yet, so I'm hesitant to name names as of now.) Mike started like ten other bands, all of which he writes and sings for. It ranges from super lo-fi garage to rockabilly to R&B to Hawaiian music. He started a record label, Merrifield Records. Also, he became really involved in film, and made the video for our song "Hatefuck." It's pretty disturbing. I too caught the film bug, having directed the video for "Believe" from our second album. I've started writing for film, and have begun acting in some cameo roles. John Conway built a studio in the Central Coast Wine Country of California, and he and Michael (guitarist) moved there for a while to write and record Michael's solo album. His sound is like a modernized version of the Zombies or the Kinks. Michael and Mike have started a clothing line, making high-end suits.
There is a real sense of renewed energy, of creativity flowing like never before. So we named the album Stir the Blood, a line from the song "Jack-O'-Lantern Man;" it's an expression which means to awake passions, get the blood moving. Also, the name reflects the dark, even violent undercurrent to many of the songs. We used artwork by Polly Morgan, who creates art out of taxidermy animals. A nice return to the bird theme from the first record. The album was mixed by Michael Brauer (My Morning Jacket, Doves, a million other things).
By Sam Endicott [Lead Vocalist for The Bravery]
THE BRAVERY
Sam Endicott – Lead vocals, guitar, programming
John Conway—keyboards, programming
Michael Zakarin—lead guitar
Mike Hindert – Bass
Anthony Burulcich – Drums