It's not everyday one gets to spend an up close and spiritual evening with REM, but that is how Michael Stipe, Mike Mills, and Peter Buck all made the people of Osaka feel throughout their wonderfully charismatic performance last Friday night at the Grand Cube, Osaka. Since the departure of drummer Bill Berry, there has been a lot of criticism from fans about the stylistic changes in REM's sound. Albums starting from 1998's Up, have been scrutinized due to lack of the "REM sound". By "REM sound," I mean the folk type garage-rock that made them radio popular in the first place. Songs like "It's The End Of The World As We Know It (And I Feel Fine)" or "The One I Love," off 1987's hit album Document. During the time between 1987's Document and 1994's Monster album, REM had three hit albums, and had completed a world tour for their Green album, which included Japan. With music videos for "Losing My Religion" and "Everybody Hurts" constantly running

on MTV, and the world tour to promote Monster, REM had its hold on the music business. Although the Monster tour was plagued with health issues and hardship, it was considered a success, and sent REM to the top of their game, commercially. After 1996's New Adventures in Hi-Fi did not get the same response as its predecessors, drummer Bill Berry decided to retire his rock'n'roll status for life on his farm. Berry's departure almost led to the demise of REM. Rather then throwing in the towel, Stipe and his crew decided to rediscover themselves within their music. Sound modification and experiment are usual patterns among most bands that make music for long durations. For example, U2 have gone through a number of image shifting sessions, and sometimes heavily criticized for them, but Bono of U2 said it best during a Mexico City concert in 1997, "If we keep it interesting for us, it won't be bullshit for you." And REM's Osaka performance was definitely not bullshit for anyone in the audience.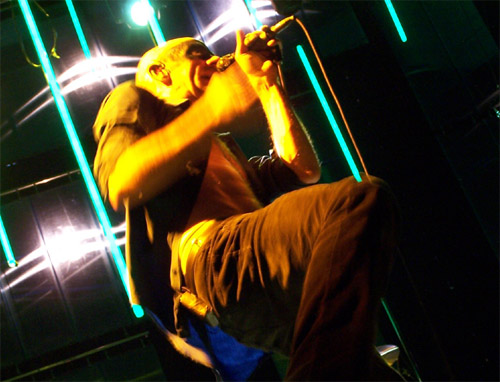 The concert started at 7 p.m., which is 5 a.m. Athens, Georgia time, but the doors opened an hour earlier so people could get to their seats. The most inspiring thing about this Osaka concert was the diversity within the audience. Children with their parents, boyfriends and girlfriends, groups of friends, people of all ages were able to share and enjoy the same experience together. The range of Osaka's
audience is proof that REM's stylistic changes have not strayed away from the most important aspect of the band's career, making good music. Before the concert actually began I interviewed a few members of the audience to get their take on REM's ever-changing musical direction. One Japanese guy in his mid-20's told me that he started listening to REM after their Monster album, and was not familiar with any of the music before that 1994 release. He knew of their earlier work such as Murmur and Document, but just didn't have the interest. Another Japanese guy in his early to mid 30's confessed his favorite album was 1991's Out Of Time, which includes such famous songs as "Losing My Religion" and "Radio Song." I also had the pleasure of sitting next to a cool girl from Adelaide, Australia, who was a fan of their entire catalog. During almost all the songs you could see her lips in perfect synchronicity with Stipe, almost as if she was feeding him the lyrics to his own songs. A lot of critics of their new sound don't notice that REM has become a voice of two generations. The younger generation has more of a chance to relate to songs like that of Around the Sun's "Final Straw," rather than Document's "Finest Worksong." For example, it's hard to imagine a new REM album consisting of songs like "Stand" or "It's The End Of The World (And I Feel Fine)" because those are classics and representative of the time they were made. (pull)When people in their mid 30's and above think of REM, the early portion of their career instantly comes to mind, but what about those people who are in their 20's?(/pull) Songs like "Lotus," "What's The Frequency, Kenneth?," and "At My Most Beautiful" have all become anthems to a new generation of listeners. It's now 7:30 pm, and as the lights begin to dim as the crowd rises to its feet awaiting the first glimpse of REM, who has only toured Japan as little as three or four times throughout their entire career. After coming on stage, the boys from Athens, Georgia started their show with Monster's "I Took Your Name," and soon after they went into the always energetic single from their Best Of album, "Bad Day." The first thing everyone noticed when they hit the stage was the interesting face-paint/mask sported by Stipe around his eyes, as if to hide his eyes from the audience. Every song held a unique ambience created by color coordination in relation to the vibe of the song. Before going into "Walk Unafraid," Stipe gave a brief vocal range demonstration to the Japanese audience, and then instantly the lights changed colors, and the song began. During the guitar solo for "Walk Unafraid," a purple strobe light effect flashed throughout the entire auditorium; and on stage was Stipe dancing from side to side, as fans close enough reached out for a chance to touch him. When they played the song, "Losing My Religion," an all red color scheme enhanced the emotion-filled lyrics sung by Stipe. They also played a few tracks from their new album, Around the Sun, like "Leaving New York" and "The Outsiders," but Stipe sang Q-Tip's part, and actually rapped pretty well.
Some of the most interesting and personal parts of the performance came during the breaks in between the songs. There was a moment when Stipe took a shot of sake before starting a song, and it was obvious he was not prepared for the taste because his whole body shook, and he closed his eyes as to wait for the taste to wear off. Also before starting "High Speed Train," Stipe went into a story about how he often played Tokyo when he came to Japan, but on his last tour he rode the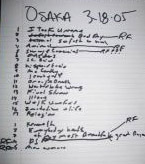 Shinkansen (Bullet Train) for the first time to Kyoto, and that helped inspire him to write the song. REM also did a rare concert performance of "Strange Currencies," which, according to REM fan sites, has only been played on this tour four times. After ending "Losing My Religion," REM exited the stage, but after five minutes or so Peter Buck came running out from the left side of the stage to get his guitar and start off the first encore song, "What's The Frequency, Kenneth?" which, by the way, kicked ass. Their encore set is where the atmosphere got most personal between the band and the audience. There was a lot more freedom within the performance, and Mike Mills and Stipe did a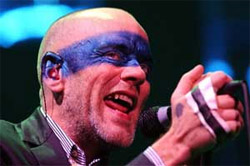 beautiful rendition of "Nightswimming," with Mills on piano. As "Nightswimming" was being performed everyone in the audience was on their feet. In front of the stage was a little girl on her dad's shoulders, watching this magnificent sound being created right before her eyes, and she had the biggest smile on her face. Good job dad. The show came to a close with their ode to the late Andy Kaufman, "Man On The Moon" from 1992's Automatic For The People. During "Man On The Moon," everyone in the audience sang along with Stipe as he danced along the stage, giving hi-fives to everyone within arms length.

REM's Osaka performance lasted a little over two hours, and by the look of the audience, they could have handled another two hours. The concert was a success, and REM proved to all in attendance that they are professionals who have been in the game for a long time now, and know what they're doing. Despite the criticism of Around the Sun for its lack of "REM sound," by fans of their older style, each song performed in the concert from that album was well received with heavy applause. There was even a sing-along (reminiscent of a karaoke bar) to their new single, "Leaving New York." Since 1998's Up, REM has seen a new generation of listeners and critics place importance on their music. Although their music from the 80's will always be in their shadow, the music they make now speaks to people of all ages, and transcends musical genre categorization. Fans of The Mars Volta, The Game, Kanye West, Britney Spears, and other new stars of today will be able to appreciate this new REM record and acknowledge the real human emotion that lies within Stipe's lyrics. That cannot be said for a large number of musicians in the business today. What does the future hold for musical talents such as Michael Stipe, Mike Mills, and Peter Buck? Not really sure, but for all us fans of REM, I am sure it won't be bullshit, and I hope it includes more albums and concerts.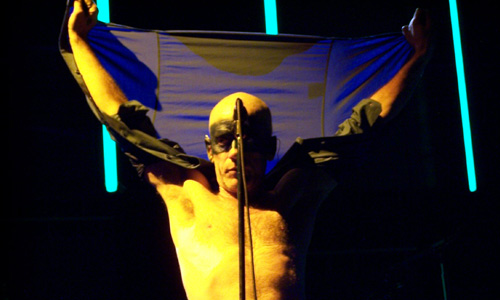 Set List
Osaka, Japan [3-18-05]
I Took Your Name
Bad Day
So Fast, So Numb
Animal
Strange Currencies
The Outsiders
So. Central Rain (I'm Sorry)
High Speed Train
Exhuming McCarthy
Leaving New York
Orange Crush
I Wanted To Be Wrong
Final Straw
The One I Love
Walk Unafraid
Imitation Of Life
Losing My Religion
What's The Frequency, Kenneth?
Everybody Hurts
Electron Blue
Nightswimming
Find The River
The Great Beyond
I'm Gonna DJ
Man On The Moon
Words by: