For 8 years Sullivan Room has been providing New York City with a valuable service. It has become a safe haven for those club goers that don't like putting up with pompous door men, rude bartenders, and annoying crowds.Click Here For Photo Gallery Located in New York's East Village district, Sullivan Room epitomizes that "underground club" feel with a huge dance floor, thumping system, and of course, the hurricane of internationally renowned artists who come to perform there including LTJ Bukem w/ MC Conrad, Miguel Migs, Josh Wink, just to name a few. It is definitely the place to be and be seen.
This year's event brought The Scumfrog back behind the DJ Booth.
Viva Sullivan Room!!!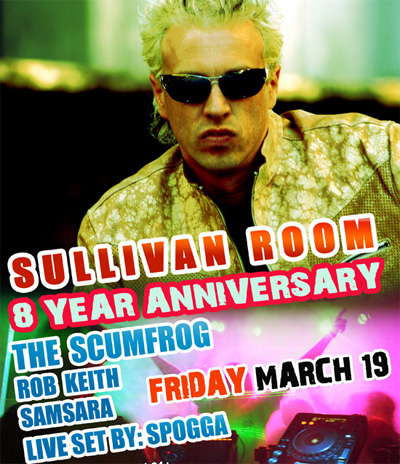 All the photos in this gallery are from The Sullivan Room's pumping 8 Year Anniversary Party.


All images are copyrighted.
**Click on any picture below to initiate Lightbox Gallery.