In the 1950's, Jazz was fertile ground for innovative musicians like Charlie Parker, Miles Davis, Thelonious Monk, and John Coltrane; but the only way to experience their true power was to see them live in some dingy, smoke-filled Manhattan nightclub somewhere off 52nd street. That all changed with the popularity of outdoor Jazz events like the Newport Jazz Festival and the Monterey Jazz Festival. Over the years, those festivals have grown to be huge events attracting audiences from all over the world. Beginning in 1966, the Monterey Jazz Festival started assembling master jazz musicians under the "Monterey All-Stars" moniker, and since then more than 20 All-Star bands have graced the Monterey stage. To celebrate the Festival's 50th Anniversary in 2007, General Manager and Artistic Director Tim Jackson decided to break the All-Star mold by taking these special bands nationwide to embody the past, present, and future of Jazz. This year's line up brought fans a healthy mix of legendary artists and home grown heroes to spread Monterey's artistic footprint.
Tenor and soprano saxophonist, Ravi Coltrane (son of John Coltrane) first appeared at Monterey in 2001, nearly 41 years to the day after his father debuted at Monterey in 1960; trumpet virtuoso Nicholas Payton was Monterey's Artist-In-Residence in 2000; both pianist Gerald Clayton and bassist Joe Sanders have been performing at Monterey since they were high school students at the festival's student competition; drummer Gregory Hutchinson (who only performed on the first leg of the tour) first hit the Monterey stage in 1992, and has performed with both Betty Carter and Joe Henderson; and guitarist/vocalist Raul Midon has appeared on the Monterey stage three times since 2011. Together, on January 24th, this unit gave the people at Zellerbach Hall in Berkeley, California a scintillating taste of the Monterey Jazz Festival.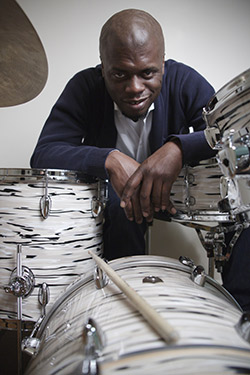 Although the All-Star band consisted of six musicians, there were multiple trio and quartet configurations which added another dimension to the show. During a lively rendition of Joe Henderson's "Inner Urge," Coltrane, Sanders, and Hutchinson appeared to have a deep conversation with each other via their instruments. Coltrane's sax seemed to weave in an out of Hutchinson's heart-pounding build up just as Sander's bass kept the foundation solid. The sextet configuration brought Raul Midon front and center to give the audience a taste of his smooth vocals and skatting talents. During a rendition of Payton's "Crimson Touch" off his 2008 Into The Blue album, both Payton and Midon continued their musical conversation with Midon using his mouth to make the trumpet sound as Payton kindly answered with his 'real' trumpet.
Despite there being multiple line-up configurations the energy was highest when all six members were jamming on stage. The encore was a fiery version of Ray Henderson's "Bye Bye Blackbird," and by the final note the ovation mirrored that of one from the Monterey Jazz Festival. Whether you are in a smokey nightclub, an outdoor festival, or a beautiful concert hall the sound of Jazz always commands the attention of your soul, and this year's Monterey Jazz Festival All-Stars Band deserves the same recognition as its famous predecessors. If you are a fan of music and can't make it to the Monterey Jazz Festival (which I highly recommend you attend at least once in your lifetime), then this group of artists will give you a glimpse of what you're missing.

Don't forget to support Jazz Education. These talented musicians are sure to be in future
Monterey Jazz Festival All-Star Bands. Go here to donate.