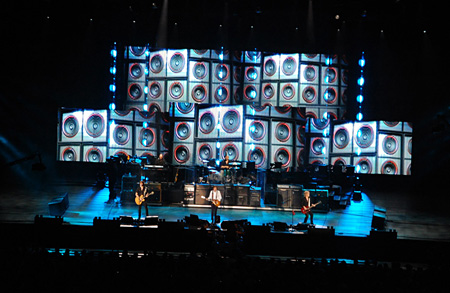 Good Evening New York City is a forthcoming CD/DVD double live album by Paul McCartney consisting of material performed over three nights as the inaugural concert at New York City's Citi Field, July 17, 18 and 21, 2009, part of his Summer Live '09 concert tour.The package will be available in two formats: a 3-disc (2 CD + 1 DVD) standard edition and a 4-disc (2 CD + 2 DVD) deluxe version featuring expanded packaging and a bonus DVD including McCartney's July 15 performance on the Ed Sullivan Theater marquee for his appearance on the Late Show with David Letterman. (pull)The set, consisting of over 33 songs over a time span of nearly three hours, will also be released on vinyl LP. Good Evening New York City will be McCartney's second release for Hear Music, following 2007's Memory Almost Full and the 2008 live EP Amoeba's Secret.(/pull) The standard version of Good Evening New York City will be sold through Starbucks company-operated locations in the U.S. and Canada and other retailers. The concert footage featured on the standard edition of the set directed by Paul Becher, who has overseen live visuals for McCartney for over 200 performances. The performances were shot in high definition using 15 cameras and digital footage incorporated from 75 flipcams handed out to fans over the course of the three night stand. The audio mix, in both stereo and 5.1, was handled by longtime McCartney engineer Paul Hicks, whose credits include the recent Beatles remasters, The Beatles Anthology, Let It Be… Naked, and two Grammy awards for his mixing work on the Beatles' Love album. The documented concerts held special significance for McCartney and his fans. Citi Field sits on the site of the former Shea Stadium, where his former band, The Beatles, set record attendance figures in 1965. In 2008, McCartney joined Billy Joel onstage for the final rock show before the original stadium's demolition. Joel returned the favor for McCartney's July appearance.
All the photos in this gallery are from Sir Paul McCartney's monumental New York City performance at Citi Field on Saturday, July 18th, 2009. No pictures or material may be reproduced or rebroadcast without written consent from the owner.
Photos by:
All images are copyrighted.
**Click on any picture below to initiate Lightbox Gallery.