Four years have passed since Australia's Sick Puppies relocated to Los Angeles, and took the world by storm with their song, "All The Same," used for a video shot in a Sydney shopping mall with their friend Juan Mann, who held up a hand-written place card offering "Free Hugs," which was seen by over 43 million viewers on YouTube alone, spurring six-figure sales of their RMR/Virgin Records/EMI Music major label debut, Dressed Up As Life. Now, primed by almost three straight years of touring, playing before thousands at festivals and generally living in rock and roll's fast lane, vocalist/guitarist Shimon Moore, his high school classmate, bassist Emma Anzai, and drummer Mark Goodwin, an Orange County native who answered an ad in Craig's List to join the band, Sick Puppies are back with their eagerly awaited follow-up, Tri-Polar, released July 14, the band's third album overall. Produced again by the hit team of Rock Mafia's Antonina Armato and Tim James, Tri-Polar reflects the band's grueling travels on the road, along with the frustrations that build up along the way, on songs like the first single, "You're Going Down," which was used by the WWE as the theme song in its promotional spots from May 17 through June 15 for the Extreme Rules Pay Per View broadcast, held at the New Orleans Arena on June 7th. "I just wrote a song I thought someone would want to fight to," explains Moore. (pull)"I asked myself, when you're getting pumped up to get into the ring, what would you want to hear? And that's what came out."(/pull) Sick Puppies also recently had the opportunity to contribute a track for Street Fighter IV video campaign called Street Fighter (WAR)," which will be featured on Tri-Polar and is currently available on iTunes. "If we can get more people to hear our music, I'm all for it," says Moore about his songs being used that way. "It's just a way to get your songs out there. We're lucky because it's more than a lot of other groups get." Before launching their own headlining tour and summer festival dates, Sick Puppies played Rock on the Range in Columbus, OH, on May 17th, Pointfest Eve in Maryland Heights, MO on May 22nd and KPNT's Pointfest in St. Louis, MO on May 23rd. These festival dates were followed by two months' worth of co-headlining dates with Hurt with Veer Union supporting.
The Sick Puppies summer tour kicked off in Pomona, CA on July 9, and stretched throughout the Midwest and East coast, with closing dates on the West coast. Sick Puppies also make an appearance in the acclaimed documentary,
Rock Prophecies
, about their good friend, legendary rock photographer Robert M. Knight, who originally took the band under his wing when they came to America and introduced them to the people that launch their stateside career. Knight, called "the Forrest Gump of rock and roll," is known for doing sessions with Jimi Hendrix and Led Zeppelin before they became superstars, and helping acts like Panic at the Disco and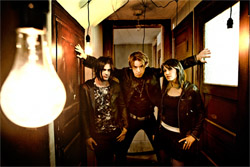 Joe Bonamassa in their formative stages. The film, which has played the festival circuit, hit theaters this summer. Other artists who give on-camera interviews include Jeff Beck, Carlos Santana, Slash, Steve Vai, Billy Gibbons, Def Leppard, Kenny Wayne Shepherd and Rick Nielsen, among others.
Band Photography by: Travis Shinn