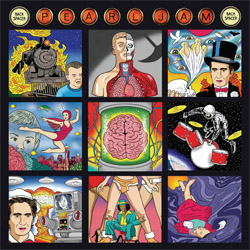 For its ninth album, Pearl Jam chose to return to producer Brendan O'Brien. The album was the group's first album produced by O'Brien since the 1998 album, Yield. "At this point, I think we're willing to let somebody cut the songs up a little bit," says lead vocalist Eddie Vedder. "In the past, Brendan would say, 'It's a great song, but I think you should do it in a different key', and we'd say no. But now that we've heard Bruce [Springsteen] has listened to his suggestions, I think we will too." Bassist Jeff Ament said, "He brings a brutally honest approach to what he thinks is working and what isn't, and it really moves things along… We don't get weighted down with ideas that maybe aren't even that good. He's one of the few people outside of the band that we trust with our music, and we're really, really looking forward to making this record."
In 2007, after Pearl Jam's 2006 tour had ended, the band members began recording demo material on their own while staying in occasional contact via e-mail. Guitarist Mike McCready revealed at the time that he had tested out some ideas with guitarist Stone Gossard and drummer Matt Cameron in separate sessions as well. Rolling Stone reported in May 2008 that Pearl Jam was in the early stages of working on its ninth studio album and had already had one session with O'Brien. McCready stated in 2008 that the album is "really in its infant stages right now" and that the band had "about five ideas that have been worked on." After laying down some instrumental beds in 2008, additional demos were put to tape in December, and Ament, Cameron, Gossard, and McCready came up with another array of material during a trip to Ament's home in Montana. Ament said, "It's the first time since the first record that we've really rehearsed… instead of just going to the studio with a handful of ideas."

Vedder proceeded to put rough vocals on about half of the material formulated in the December session, and also brought in his own material for the band members to work on. In February 2009, Pearl Jam went for a two-week session at Henson Recording Studios in Los Angeles, California with O'Brien. It was the first time the band spent a considerable amount of time recording outside of Seattle, Washington since the band's 1996 album, No Code. McCready said, "[When] we got together with Ed and it really started getting more cohesive, we took that momentum down to Los Angeles with Brendan… It was a great idea to get us out of Seattle. You've gotta get out [of] your comfort zone, and we've talked about doing that for the past ten years and kind of haven't, so we trusted Brendan's judgment." In April 2009, the band went for a two-week session to finish the album with O'Brien at his mixing facility at Southern Tracks in Atlanta, Georgia.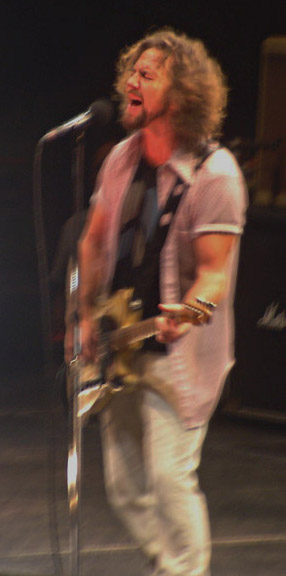 McCready said, "I'd sum it up as kind of a tight, concise, rock 'n' roll record with kind of pop or maybe new wave elements to it… It's a really quick record, but I like that element to it. I like the sparseness of the songs and the way that Brendan pulled us together and made us play as good as we could." Stephen Thomas Erlewine of Allmusic said that "prior to Backspacer, Pearl Jam wouldn't or couldn't have made music this unfettered, unapologetically assured, casual, and, yes, fun." Vedder stated, "The new record feels good so far—really strong and uptempo, stuff we can sink our teeth into." Gossard said, "There's plenty of ballads, too… And there's some shifts in how Jeff and Matt and I are all relating—I think this record's got a chance to sound significantly different." Ament said, "There's a couple of great things that Ed brought in that could be real departures for us. Whatever wave Ed caught with [his soundtrack for] Into the Wild has taken him to different places." Lyrically, Backspacer displays a more positive outlook than the band's last few albums. Vedder credited the election of President Barack Obama as inspiration for the optimistic lyrics. Regarding the lyrics, Vedder said, "I've tried, over the years, to be hopeful in the lyrics, and I think that's going to be easier now." Gossard stated, "We've made a couple of political and pointed records, the last two in particular, and just to move away from that is great, because it allows you to go back to that when you need to and it refreshes everybody, and it comes down to a beat and a melody and your friends and a lyric and a poem and something that's important to you." Backspacer is the first Pearl Jam album to feature lyrics exclusively written by Vedder since the band's 1994 album, Vitalogy. Vedder called "Gonna See My Friend" a "drug song," but elaborated that the song is about going to see a friend to stay off drugs, and he stated that "Got Some" is about a "drug dealer," but added what the drug the dealer is selling is actually a great rock song. Vedder was inspired to write the lyrics for "Johnny Guitar" after viewing a collage of album covers that is pasted on the bathroom wall of the band's rehearsal space. He noticed the album cover for Johnny "Guitar" Watson's 1979 album, What the Hell Is This?, and imagined a man who becomes attracted to one of the various women on the cover and then wonders why this woman would rather be one of Watson's many girlfriends instead of his only one. Vedder described "Just Breathe" as "as close to a love song as we've ever gotten," and said that the subject of the song is the happiest times of people's lives when they should just take in the moment and "breathe for a minute." He also said that "Unthought Known" concerns the human psyche, and "Supersonic" is about the love for music. According to Vedder, "Speed of Sound" is a song taken from the perspective of a man who is still sitting in a bar after everyone else has left, but he added that even though the song is sad it became more "confident" when played with the whole band. He said "Force of Nature" is "about the strength of one person in the relationship, when they can withstand some of the faults in another." "The End" has been described as an "aching love song."

The artwork for the album was handled by editorial cartoonist Dan Perkins, who goes by the pen name Tom Tomorrow. Perkins spent six months working on the artwork. In 2009, Village Voice Media, publishers of 16 alternative weeklies, suspended all syndicated cartoons across their entire chain. Perkins lost twelve client papers in cities including Los Angeles, Minneapolis, New York City and Seattle, prompting his friend Vedder to post an open letter on the Pearl Jam website in support of the cartoonist. Perkins referred to the artwork as "dreams and memories," while Gossard referred to the artwork as a "bizarro otherworldy dreamscape."The album's cover art features nine images created by Perkins, and was revealed through a contest on the band's official website. The nine images were hidden on various websites, and the contest asked internet users to search for the websites containing the images, whereby the images would be placed on a grid on the Pearl Jam website after clicking on them. After finding all of the images, users were rewarded with a demo version of the song "Speed of Sound". The album title Backspacer is a tribute to a typewriter key that went out of use in the 1950s. Vedder is known to use typewriters when writing lyrics and letters. Vedder said, "Backspacer [means] actually you kind of have to go back and look at your mistake." Gossard said, "There's some retrospective moods on this record, where Ed is looking at both his past and his future." The album title Backspacer was also used for the name of a
leatherback turtle that was sponsored by Pearl Jam for Conservation International and National Geographic's Great Turtle Race. On October 4, 2009, Pearl Jam headlined the Austin City Limits Music Festival. The Austin City Limits appearance took place amidst the fourteen-date North American leg of the tour. An additional leg consisting of a tour of Oceania took place afterward. The band toured throughout Australia in November 2009. The first gig in Australia was in Perth followed by gigs in Adelaide, Melbourne, Sydney and Brisbane. Following their tour of Australia, the band toured New Zealand. A European tour is planned for June 2010.