It's in the world I become/Contained in the hum
Between voice and drum/It's in the change
The poetic justice of cause and effect/Respect, love, compassion
This is my church/This is where I heal my hurts/For tonight
God is a DJ
-Maxi Jazz (lead singer of the band Faithless)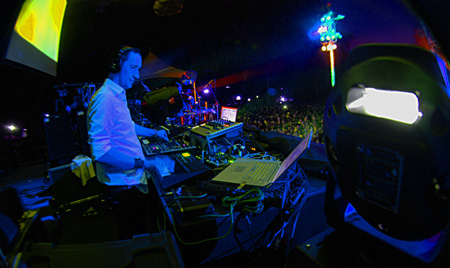 Empty plastic cups vibrated beneath a sea of dancing lunatics as the stunning Paul Van Dyk emblazoned Central Park's Rumsey Field with an arsenal of sensory stimulation. With school about to begin and vacations winding down Summer is slowly giving way to Fall, and who better to deliver New York its final brouhaha than the legendary Matthias Paul (a.k.a. Paul Van Dyk). Over the last two decades PVD's electronic orchestrations have found their way into clubs and parties throughout the world. (pull)From Club Cream in Ibiza, Spain to the Ministry of Sound in London, England, DJs have blown crowds away with timeless PVD records such as "Tell Me Why (The Riddle)" from 2000's Out There And Back, "Nothing But You" from 2003's Reflections, and most recently, "White Lies," from 2007's In Between.(/pull) Although his musical masterpieces can increase your heart rate to a weight loss speed his live show adds another dimension to the equation. Backed by two live drummers (one on each side of the stage), three movie screens, and multi-colored lasers, PVD's staggering Central Park show was the perfect medicine for that end-of-summer blues. Painted people danced with plastic jewelry around their necks and arms, drunk people made out under the illuminated sky, and people in the VIP area drank wine as they played Nintendo Wii's Tennis in a white tent. The most memorable part of this show was looking at the crowd from on-stage and noticing the smiles from everyone in attendence, a rare sight in the city that never sleeps. The only sad faces to leave central park that night belonged to the clean up crew. Now PVD is off to rock another city, but not without leaving us the greatest gift of all, a visceral experience that will return each time we close our eyes and listen to his music. Once you find that feeling, it will last forever.
All the photos in this gallery are of Paul Van Dyk's jaw-dropping spectacle at New York City's Rumsey Field (inside Central Park) on Saturday, August 29th, 2009.
Photos by:
All images are copyrighted.
**Click on any picture below to initiate Lightbox Gallery.