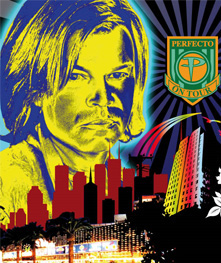 Paul Oakenfold's latest release, the two disc set aptly titled Perfecto Vegas, is an unambiguous return to his roots in electronic groove – and a clear reminder that this turntable genius is still one of the best spinners in the world. After his recent stints in pop music collaborations, the world famous DJ was inspired by his weekly spot at Las Vegas' Rain Nightclub to truly get back to his beginnings as a club/trance electronic mixer. (pull)Let's face it, we all know and love Oakie for his original throbbing DJ sets, but keep in mind that he has received some flak in recent years for his stray from electronic beats into the popular music genre in his collaborations with several pop singers.(/pull)Perfecto Vegas, however, is proof that he never really abandoned those roots. Rather, it was a temporary reprieve of sorts. Indeed, this album boasts very few vocals, yet is still the perfect melodic journey with twenty-three superbly mixed tracks. This album is nothing less than a transcendent work of art by a creative force pursuing a mixture of his purest and basest elements. It's an assortment of various electronica, giving us everything from house to trance, with effortlessly smooth transitions that make for an impossibly perfect flow throughout the album. The high energy club mixes are not only good for the dance floor, but you can throw this album on in the gym and your workout will be smooth sailing. The return to classic Oakenfold sound is unmistakable.

He is simply a great DJ who has been steadily evolving over the years without ever truly losing sight and understanding of what is good, if not better, than the rest. Over the past couple decades we have seen the rise of a particular type of music that was previously unknown in any music scene. Paul Oakenfold has been one of the top names in this electronic progressive house music since the start. This music was designed specifically to act as a sort of vacuum and remove any emotions left lingering in the air around us. Perhaps this helps us breathe better because it removes tension and anxiety; and without doubt, that is what this album does for those who listen. It is climate control music, anti-depressant music, designed to neutralize and ultimately render stillness in our minds. If you're a person who needs a little escape, somewhere to go in their head that is quiet –
Perfecto Vegas
is your cure. It's trance, it's the convergence of diametric opposites: inhibition, anxiety and ease, freedom and impingement into paralysis. It's all of that rolled into one album, and somehow through the genius that is Paul Oakenfold, it works. It frees your inhibitions, and it even opens your mind.
Perfecto Vegas
is the surefire record that any house/electronica/trance fan needs in their collection.