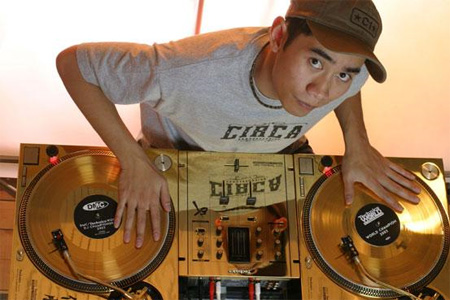 NOTES TO SELF's first 'shot' is the product of much hard work from determined and talented rappers Swamp Donkey and Roshin, producer/rapper Bronze One, and 2003 world DMC champion DJ Dopey. These artists are in the classic sense, a true group – devoted visionaries who thrive on collaboration to further their goals.There is something about hip-hop that demands that one participate in its culture. Bronze picked up on this demand when he purchased DJ Jazzy Jeff and The Fresh Prince's classic sophomore production "He's the DJ, I'm the Rapper" on cassette in 1988. This convinced Bronze of the need to balance entertainment and groove at very early age. Releasing their debut with bbe, who work closely with DJ Jazzy Jeff, now bring Notes to Self full circle. (pull)In the groups own words, "A good song is cool, but a good album, an album rich in content, you can just press play and let go – this has always been the type of album we've listened to and wanted to make." A SHOT IN THE DARK is a testament to this ideal.(/pull) The album is all about originality. In the song "Nobody", Roshin raps "I was just a little crony/ tryin' to kick it like my favourite rappers/ just a lil' phony/ I was busy tryin' to go party/ ten years later I don't sound like nobody." Songs like "Lifelines" and "Yellow and Grey" tell of the importance of NOTES' resilience and stability, the group's moving forward against immeasurable odds. "Yellow and Grey" boasts a remix with US recording artists DILATED PEOPLES – it's all about true colours for NOTES. The album flows easily thanks to NOTES' attention to detail. Crowd anthems like "Shrink Rap" and "Throw Your (Hands Up)" move seamlessly into the smooth head- nodders bbe fans are accustomed to, such as "Jetlagged," "Heirlines" and "Days Like These." NOTES co-founders Bronze One and Swamp Donkey comment that "it was important to find a label that would give us full creative control over our own projects… bbe's run by DJ's; they're familiar with playing and releasing good music. NOTES' DJ brand of rap just fits." "We need young determined hustlers" says Peter Adarkwah, founder of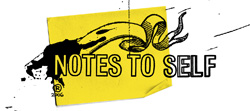 bbe Records, "we are looking for good music full stop and I really like what I hear in Notes to Self " With a fully-developed sound and a fully-realized stage show, members of NOTES TO SELF are ready to take their 'shot' – watch for a single flare, it'll be a signal flare, it'll be NOTES' A SHOT IN THE DARK.

The Hip Hop juggernaut NOTES TO SELF features rappers Swamp Donkey and Roshin, producer/rapper Bronze One, world renowned DJ/turntablist DJ Dopey and writer/illustrator Elicser. For … (more) eight years NOTES TO SELF has successfully created a group dynamic reminiscent of early De La Soul and Dilated Peoples. NOTES TO SELF hails from Toronto, the capital of Canadian hip hop. A collective as mature and talented as NOTES TO SELF is rare, especially in a genre often limited by trends lacking in originality. NOTES' musical diversity is broad and exciting. NOTES' vibe captivates – the group has a solid regional fan base; both Dopey and Bronze's reps span the globe. NOTES TO SELF has recently completed the final touches on their debut full-length work scheduled for worldwide release this summer 2008. While eagerly awaiting the release of their debut effort which now features collaborations with US artists Dilated Peoples and Def Jux affiliate Vast Aire of Cannibal Ox, NOTES continues to record with fresh innovators such as producer's MoSS & Mr. aTTic, and of course close friend and collaborator Bookworm. In the meantime, Dopey still finds time to travel, entertaining crowds from New York to Tokyo with the likes of DJ Woody and DJ Pump while maintaining a DJ residency on television's MTV LIVE. Elicser also finds time to showcase work with Amoeba Corp. and Upper Playground from Montreal to San Francisco while holding down various contracts with Cuppa Coffee and Nike Canada. NOTES TO SELF is dedicated and determined. Since the 2003 release of Bronze One's solo ep Just Add Water and most notably, among other numerous titles – DJ Dopey's world DMC championship win, their 2007 collaboration with Abdominal on his solo debut Escape from the Pigeon Hole, marks NOTES' third global commercial effort; and NOTES' 2006 tribute release commemorating the late great J Dilla, which now continues to realize over 6000 downloads online. As NOTES steadily adds to their list of accomplishments, the group most certainly stepped up their game by opening up for Brooklyn based power house rapper, Talib Kweli, which has since guaranteed them as headliners for both CMW & NXNE music festivals. NOTES TO SELF is poised to break; with each 'cutting-edge' step, they ready themselves for world distribution. Hip Hop has come full circle with NOTES TO SELF.