Linfinity are a New York City based group of musicians who helped form a band around enigmatic front man Dylan Von Wagner. The initial impetus behind the endeavor could best be described as a spark, or the clicking on of a light bulb. He began the project after something unknown popped in his brain and the drive to create became impossible to contain. Getting serious about music in his late 20s, a time when most musicians might have already been through a couple of runs with a few different bands, Von Wagner is a bit of an anomaly. It wasn't until 29 that Von Wagner first found himself on stage in a band (Linfinity), who in contrast had all been playing and gigging about in various outfits for far longer.
The genesis of Linfinity's story began taking shape in 2007 when Von Wagner recorded some demos with a few friends at The Walkmen's Marcata studio in Harlem.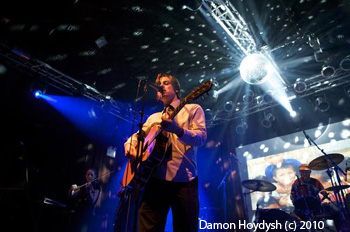 Those songs caught the attention of St. Ives Records (a vinyl only imprint run by the Swanson brothers of Secretly Canadian), who later released a full album of demos titled Live at Marcata, a solo acoustic endeavor.
Von Wagner soon began the process of assembling a permanent cast to comprise Linfinity the group. But, as would be the case with the project overall, each new addition played a role in the search, and for the most part the band members found each other via friends of friends. "I think because the rest of the band knew each other and not me," muses Von Wagner, "it made it easier for us to work together." Everyone was eager to get involved with a project they felt they could contribute to, and Von Wagner's inclusive nature –viewing the band as a partnership for collaboration rather than a platform for his own material – aided in their commitment. A commitment that would see them endure early days in a stifling practice space that had many of them playing sans pants to avoid heat stroke. That everybody felt like an intricate piece in the puzzle helped as well.
The band members provided input, influence, and years of experience playing live and recording, adding their own artistic vision and direction to Linfinity's music. Russ Lemkin (drums) and Josh Collins (Guitar) pushed the idea of recording a new EP right away, believing the process would help the musicians more quickly flesh out their sound together as a band. During the summer of 2008 in a barn in New Paltz, NY, Linfinity set to work recording the self-released EP Songs of The Weeping Willow with producer Kevin McMahon (The Felice Brothers, Titus Andronicus). Lemkin and Collins were right. The band learned how to work together, feeding off each others ideas as drum lines, guitar solos and effects, and string arrangements written by Megan Berson (violin) and Collins melted together around Von Wagners songs and distinct vocals. Part time member Omer Shemesh provided piano and keys support to round out the sound.
Though beneficial for the bands early development, the EP is also a snapshot of a troubling time in Von Wagner's life, as Linfinity completed recording while he simultaneously struggled with the unexpected loss of his father.
Yet out of tragedy came hints of light, as Songs of The Weeping Willow (which was given away for free) caught the attention of tastemakers and fans. Encouraged by the response, Linfinity began the process of rounding out an album for their full-length debut. It would not be quick however. Not willing to sacrifice quality for the sake of expediency, Von Wagner and the band would spend the next year scrapping together resources to realize their vision to its fullest. They hustled their way in and out of the studio, finishing bits and pieces at a time. In late 2009, upstart Brooklyn indie label American Myth Recordings (Lissy Trullie, Paul & The Patients) took notice and stepped in to help Linfinity finish the job as the band re-mixed and re-tracked some finishing touches to the album. Linfinity's Martian's Bloom, recorded with producer Josh Hager, marks the first full-length release for both the band and the upstart indie label.