In contrast to its predecessor New Amerykah Part One (4th World War) (2008), which was digitally produced and political in tone, New Amerykah Part Two (Return of the Ankh) incorporates sampling and live instrumentation, while its more personal lyrics focus on themes of romance and relationships. Badu has described its sound as "very analog". Recording during 2006 to 2009, a portion of the album was recorded at New York City's Electric Lady Studios. She told Rolling Stone that she recorded her vocals for the song "Window Seat" in her shower, stating "I wanted to sound like I was in a tunnel. I got my laptop and closed the door". In an interview for Billboard, Badu explained that "We used a lot of analog instruments—harps, strings, drums, piano, and even a Theremin—to give the album that sonic feel. There's a strong undercurrent of bottom, a rumbling to these songs that feels good to me. It feels like a hug". In the same interview, she explained the album's title, stating:
I called it 'Part II: The Return of the Ankh' because this album is the sister of the left side of my brain – it is the right side.'Part I was the left side of my thoughts – it was more socially political and my thought process was more analytical. This time there wasn't anything to be concerned with – the album is more emotional and flowy and talks about feelings. It reminds of the days of 'Baduizm' – this is just about beats and rhymes in a cipher.
—Erykah Badu
According to Badu, the album's closing track, "Out My Mind, Just in Time", is a three-movement song: "The first movement is called 'Recovering Undercover Over-lover.' It actually sums up the whole album, because I'm talking about love and emotion – 'I need you to do this,' 'I want you to do this,' 'You make me feel like this,' 'Why don't you feel like this?' It's typical of how you feel in relationships.
The second movement is called … 'Easier Said Than Done,' and it's about how hard it is to change after you've been in a relationship for so long. And then the third movement is called 'But Not This Time,' because even though I've done things a certain way for so long, I won't do that this time". The album was released March 30, 2010 on Universal Motown in the United States. It is set for release in Japan on April 14, 2010. New Amerykah Part Two's cover art, titled "Out My Mind Just In Time", shares the name of the album's closing track and was designed by visual artist Emek, who had also designed the artwork for New Amerykah Part One. He explained on his website that he used song lyrics from the album as inspiration.
In promotion of the album, Erykah Badu hosted a series of listening sessions for press and VIPs at Chung King Studios in New York City on December 9 and December 10, 2009. During March 2010, Badu promoted the album through television performances on Late Night with Jimmy Fallon, The Wendy Williams Show, Chelsea Lately, Jimmy Kimmel Live!, and Good Day New York. She also appeared on the April issue cover of EQ magazine and was featured in the April issues of Nylon and Playboy, while she is also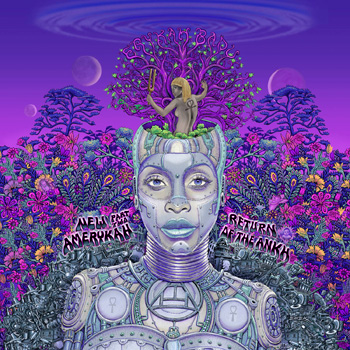 scheduled to appear in upcoming issues of several publications, including Rolling Stone, Entertainment Weekly, Time Out New York, Spin, Vibe, Paste, and People, among many other publications. Badu performed at a surprise midnight show on March 31, 2010 at the El Rey Theatre in Los Angeles.
The internet-only promotional single "Jump up in the Air (Stay There)", featuring Lil Wayne and Bilal, was released on Badu's official website in January 2010. RC Williams, Badu's musical director, said that a music video for the track was shot in Dallas. A censored "clean" version of the video was released on February 12, 2010 on Badu's official website. It has been made available as a free, legal download by Giant Step, the marketing and promotion company for the album. The album's first official single, "Window Seat", was released by Badu through a downloadable link on her Twitter page. The song has so far peaked at number 19 on the Billboard R&B/Hip Hop Songs chart. The video for "Window Seat" was directed by Coodie Rock and premiered on Erykah's official Site on March 27, 2010 at 3:33 AM EDT. In the video, Badu is seen walking the streets of Dallas near Dealey Plaza, slowly stripping to the nude, before being shot by an unseen assassin. The album's second single, "Turn Me Away (Get MuNNY)", was released March 24, 2010 by Badu as a free download online.
The album's supporting North American tour, "Out My Mind, Just In Time Tour", is set to begin May 22, 2010, starting at the Pier Six Concert Pavilion in Baltimore, Maryland and ending June 24, 2010 at the Pearl Concert Theater in Las Vegas, Nevada. Badu will be supported on the tour by N.E.R.D., Bilal, Janelle Monáe and The Roots-drummer Ahmir "Questlove" Thompson. Badu will also perform at the Lollapalooza festival and Lilith Fair during the 2010 summer, along with special guest appearances at Maxwell's concerts at Philips Arena in Atlanta, Georgia on June 11 and at Madison Square Garden in New York City on June 26, 2010.