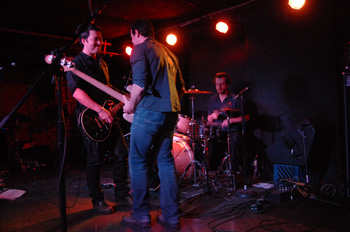 We live in an age where having a double life is the greatest things since bread came sliced. People love watching Bruce Wayne rid Gotham of crime at night as Batman, Peter Parker swing between skyscrapers as Spiderman, and Clark Kent fly through Metropolis as Superman, so when I heard that the band Fleming consisted of two doctors and a suit, my music journalist senses started tingling. Guitarist Erich, the neurosurgeon, and bassist Guillem, the orthopedic surgeon, met at Columbia University while studying to become doctors. As students, the two performed regularly at local coffee houses and talent shows until they met drummer Andrew Fleming, the corporate employee for McNally Restaurants, who joined the duo on stage, thus, completing the musical trifecta. Soon after becoming a trio, Erich, Guillem, and Andrew began performing throughout the city as Fleming. Some fans consider the name a symbolic gesture, as Erich and Guillem had trouble finding success as a duo, while others feel that Andrew's surname is an appropriate moniker since Fleming's recordings and live performances have such a strong drum presence, as was the case in early February when the band took over New York City's Mercury Lounge to celebrate the release of their debut EP Play for Manuel, a collections of rock songs that sound like Collective Soul meets the Red Hot Chili Peppers.
Backed by Andrew's thunderous drumming, Erich and Guillem jumped around stage like wild rock stars as they blasted fans with passionate renditions of "Slip" and "Poem," two new tracks off the EP. Their 45 minute set ended with the audience reciprocating that energy in the form of a roaring applause. They may not have superhero crime fighting powers or a tearjerker story that you'd hear on TV's The Voice, but what they do have is musical talent, and that is what makes Erich the neurosurgeon, Guillem the orthopedic surgeon , and Andrew the corporate suit so unique. Fleming is definitely a band not to be slept on. Expect big things from this trio of talent.
Stay up to date with Fleming at:
www.flemingrocks.com
MySpace
Twitter
Facebook
All images are copyrighted.
**Click on any picture below to initiate Lightbox Gallery.