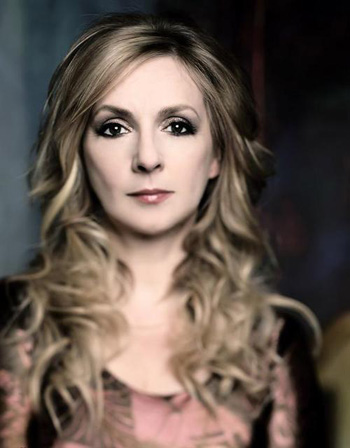 The spiritual presence of her sound is intoxicating, and the 50 plus people who watched Moya Brennan perform at The Winery in late March witnessed sonic beauty at its finest. Standing between two harps her music radiated throughout the venue, causing waiters and other venue employees to stop dead in their tracks. Moya's beautiful voice has the power to melt hearts across the globe, and this enchanting performance proved that Moya truly is the "First Lady of Celtic Music."
Moya Brennan (Máire Brennan) is a Grammy Award-nominated Irish folksinger, songwriter, harpist and philanthropist. She began her singing career when her family formed the band Clannad in 1970. Brennan grew up as the eldest in a very musical family in the remote parish of Gweedore (Gaoth Dobhair), in the northwest of Ireland, a Gaeltacht area in which the Irish language and tradition continue to flourish. Her mother Máire (or Baba) was a music teacher and her father was a member of a cabaret band with whom she performed as a child. Moya is the eldest of nine children, her sisters are Deirdre, Eithne (now known as Enya), Olive, Brídín and her brothers are Ciarán, Pól, Leon and Bartley.
Brennan released her first solo album in 1992, Máire, on Atlantic Records. Misty Eyed Adventures on BGM followed three years later. In 1998, Brennan signed with Word Records and released Perfect Time, and Whisper to the Wild Water a year later. The album was nominated in the Grammy Awards of 2001 for Best New Age Album. Brennan is managed by her husband Tim Jarvis and her brother Leon Ó Braonáin. Her music is usually classified as New Age or Celtic. In total Brennan has recorded 25 albums, and has sold 20 million records. Since 2002, she has promoted herself as Moya Brennan — a spelling closely resembling the phonetic pronunciation of her name for those not familiar with the Irish variant of the spelling.
Under this moniker she released an album entitled Two Horizons in 2003 under her new label, Universal. She has also collaborated with dance artist Chicane for performing the vocals on the single "Saltwater", which was also featured in the Visit Scotland advertising campaign, as well as having been used by Fáilte Ireland to promote Ireland, and by Belfast city council, both in television adverts.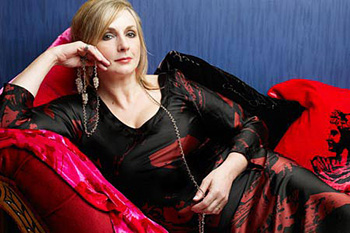 In April 2010, Moya released a new studio album with harpist and live band member Cormac de Barra. My Match Is A Makin' was recorded for her Spring 2010 tour of the Netherlands, and is available only during her tours. The album is expected to become more widely available in 2010.
Moya Brennan has announced that she is working on a hymns album, possibly for 2010 release and will release a new unplugged album with Clannad in 2010 or 2011.
All images are copyrighted.
**Click on any picture below to initiate Lightbox Gallery.