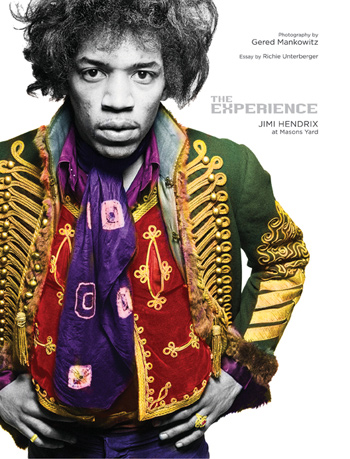 Are You Experienced? Jimi Hendrix's rise to fame has been talked and written about for the past four decades, but has never been so vivid until now. Read essays by some of music's top journalist and page through photographs of Jimi and his band. World-renowned rock photographer Gered Mankowitz did two photo shoots with Jimi and The Experience: Jimi Hendrix at Masons Yard is the chance for fans to experience this moment in time.
Hendrix had just taken London by storm with a BBC session that rocked the music world, cementing him as one of the most influential musicians from his era and Gered Mankowitz captured this historical moment at his legendary Masons Yard Studio. Mankowitz was assigned the task of capturing the bands personality, but he took it one step further and created the visual trademarks the trio is known for today.These photographs are a mixture of classics (The cover of Hendrix greatest hits album) and never before seen images that will remind readers who Jimi was and might have been, giving a glimpse into sides no one has ever seen before. The Experience gives readers something to hold onto that will undoubtedly conjure up memories from the years when the world had Jimi.
________________________________________
Email editor@unratednyc.com with your favorite Jimi Hendrix song for a chance to win a free copy of Gered Mankowitz's fascinating book
Gered Mankowitz, one of the greatest rock photographers of the last 50 years, is holding a book signing at Morrison Hotel on Saturday, September 25 for his new book "The Experience: Jimi Hendrix at Masons Yard." The book features photos taken by Mankowitz, including Hendrix classics and some images that have never before been seen.
Stop by the gallery from 1 to 4pm to meet Mankowitz and get your book copy signed. Morrison Hotel is located at 124 Prince Street (SoHo) New York, NY 10012.
________________________________________