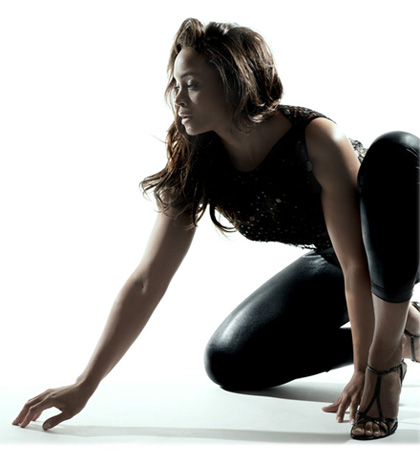 Maiysha's This Much Is True, the first release on the UFO/RYKO-distributed Eusonia label, marks the arrival of a striking new figure in the presently up-for-grabs realm of contemporary soul music. The debut album from the Brooklyn-based writer/artist is elegant and intelligent, hook-laden and envelope-pushing; no wonder Maiysha and producer/co-writer/Eusonia founder Scott Jacoby prefer to describe their joint creation as progressive soul.Click Here for Maiysha Photo Gallery
The album's dozen original songs, plus a radical reimagining of Peter Gabriel's "Sledgehammer," reveal an artist blessed with a seductive voice, rarefied technical skill and acute emotional authenticity, as Maiysha examines the dualities of striving and setbacks, strength and vulnerability, languor and urgency, sensuality and spirituality.
The settings recall soul's golden age-for the most part the arrangements are composed of real instruments played by skilled and knowing humans, starting with Jacoby himself on keyboards and drums -while also capturing the zeitgeist of contemporary existence. In a sense, this album could serve as the soundtrack to Man Gone Down, Michael Thomas' celebrated 2007 novel describing the challenges facing a young African-American intellectual in today's complex world. It's that deep and provocative. If her music is uncommon, so is Maiysha's back story. Born to an attorney father and a TV journalist mother, Maiysha grew up as a self-described "Cosby kid-I have no shame about it," she says, "to the extent that my parents even nicknamed me Denise, because I was a little quirky, with weird outfits and big hair."
She punctuates this remembrance with an easy, infectious laugh. Maiysha's parents divorced when she was three, so that she split her formative years between Chicago and Minneapolis, as her mom and dad continued to shape her budding sensibility. "When you're a black girl," she points out, "people always ask, 'Oh, did you sing in church?' And I'd answer, 'No, I went to Catholic school, and there's not a whole lot of that kind of singing in the Roman Catholic Church.' Actually, I learned to sing in the backseat of my mother's car. My mom's favorite memory is me sitting in my car seat asking to hear 'brown Natalie,' which was my toddler's way of saying Natalie Cole. So I was raised on all this great late- '70s and early-'80s pop and R&B, which I'm sure is obvious in my music now. For me, it was always those iconic voices like Chaka Khan, Donna Summer and Diana Ross-although I don't consider myself a 'diva'-in addition to Stevie Wonder and Prince." Click Here to read more about Maiysha
_______________________
All the photos in this gallery are from Mayisha's sizzling performance at New York City's Royalton Hotel on Tuesday, November 10th, 2009.
Photos by:

All images are copyrighted.
**Click on any picture below to initiate Lightbox Gallery.