"
Scream for me, Jones Beach!" is genius.
That was the command Iron Maiden frontman Bruce Dickinson barked at key moments during  the band's Wednesday (June 27) gig, baiting hardcore fans (is there any type at a Maiden show?) to return the favor and also give love to their hometown, or in this case, the Nikon Theater at Jones Beach itself.
With the Maiden England world tour kicking off just six days ago in Charlotte, the group was rested and ready to deliver its signature, galloping brand of aggressively intricate, massively influential music that they've been assaulting the world with since their 1980 recording debut. On this current tour, the band has once again cranked up the time machine, focusing mostly on tunes from their 1982-1988 creative peak.
And what a peak. With their 1988 concept album Seventh Son of a Seventh Son as the centerpiece, the band took the stage to dark light and smoke, charging into "Moonchild" and "Can I Play with Madness," the latter featuring Dickinson twirling and tossing in mike stand up into the air, immediately giving the song even more of a classic Who-like vibe.
They followed with "The Prisoner," a tune based on the legendary 1960s British TV drama. MIA from Maiden's live set for quite some time, it received a welcome embrace from fans who have long since worn out their old (physical, thank you very much) copies of The Number of the Beast LP, the band's first with Dickinson (which itself celebrates its 30th anniversary this year). Next up was "2 Minutes to Midnight," a Maiden classic and the first one that got the crowd from excited to hysterical, with teenagers literally jumping out of their seats.
Dickinson's first contact with the crowd flirted with a theme that dominated the night. Always unscripted onstage, the frontman is a master improviser. Mentioning that the band was looking forward to Madison Square Garden "being rebuilt" (which Maiden last played in 2010—name another heavy '80s act that's not Metallica that can pack The World's Most Famous Arena), Dickinson casually mentioned with a shit-eating grin that the band will be playing New Jersey next week.
Cue the boos.
"Tolerance is alive and well and living in Jones Beach!" Dickinson purred. "What, you don't like New Jersey? It's a great place!" (He wasn't kidding: East Rutherford's Izod Center makes a prominent appearance in Iron Maiden: Flight 666, the band's 2009 tour documentary and live album.) This antagonism—which is already the root of metal—lit a fire under the singer, whose "scream for me"s now became more of an order and less of a suggestion.
Despite the stone-faced nature of the band's songs, they were having an absolute blast on stage. Classic Maiden is all about speed, complex time changes and intricate guitar harmonies. Their three(!) lead guitarists, Dave Murray, Adrian Smith and Janick Gers, nailed everything like clockwork, sporting huge grins on their faces during the parts that would make amateur axmen run to the hills.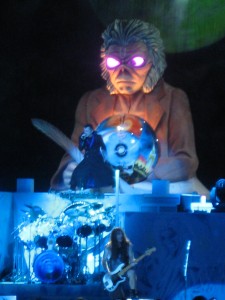 Speaking of "Run to the Hills," it's back in the set this time, in good company with other Maiden masterpieces like "The Trooper" (featuring a red coated Dickinson waving two giant Union Jacks, long before David Lee Roth got the idea for his own checkered flag to close Van Halen's recent gigs), "Phantom of the Opera" and "Wasted Years." Bassist Steve Harris—Iron Maiden's true leader—was running around almost as much as Dickinson, known for his multiple sprints across the stage during every performance. Clubbable drummer Nicko McBrain was also in fine form throughout, and he didn't seem to mind when Dickinson came over to bash a few of his cymbals at one point.
Every Maiden show has an epic, and this time we got the title cut from Seventh Son of a Seventh Son. Nearly 10 minutes long, the intensity was sustained as Dickinson worked the crowd even during the extended solos, making this a true audience participation gig. The later appearance of the band's mascot Eddie (appearing as a cyborg onstage and then a massive stage prop inspired by the Seventh Son artwork, complete with a lucky roadie kicking and screaming inside his beating heart) drove the crowd into a frenzy after all the pyro and fireworks. This song was later followed by "Fear of the Dark" (released in 1992!), one of Maiden's—and metal's—absolute best. As fans know, all of the instrumental parts are chanted by the crowd in the live version, making it a true communal experience and the anthem of the night.
After a workout of their eponymous 1980 tune "Iron Maiden," the band quickly returned to the stage for a three-song encore blast of "Aces High" (complete with Winston Churchill intro), "The Evil That Men Do" and, coming full circle, "Running Free," the first single of Maiden's career, when they were much younger but no less energetic than they were Wednesday night. Just listening to a great Maiden tune is an athletic exercise in itself, and the fact that this band can revisit their glory days without missing a note and having the time of their lives is awe-inspiring.
If you've ever wondered why Iron Maiden is the biggest "cult" band in the world, this is the tour to see. As pop stars come and go, the group has always embraced its under the radar status, packing arenas and stadiums wherever they go. With its humble origins and determined attitude, Iron Maiden is the ultimate underdog band.
No wonder they love New Jersey so much.
One more thing: Alice Cooper opened the show. The fact that he and his band played "I'm Eighteen," "No More Mr. Nice Guy," "Billion Dollar Babies," "Poison" and "School's Out," plus a pair of cuts from his 2000 masterpiece Brutal Planet (his heaviest album to date) is pretty much all that needs to be said.
Catch Iron Maiden at the Prudential Center in Newark on Monday, July 2. For more tour dates, visit www.ironmaiden.com.
Article and photos by Justin Tedaldi
Visit Justin's National Music Q&A page for Examiner.com here.