The Yoshida Brothers, Japan's young masters of the ancient tsugaru-shamisen, are back with a new album, Prism. The aptly-named release reflects their long-standing commitment to traditional Japanese folk music, refracted through modern musical sensibilities, incorporating elements of pop, rock, and world music sounds. (pull)On Prism, the Yoshida Brothers have collaborated with some notable talents, such as Southern California singer-songwriter Jesca Hoop, who wrote the Celtic-tinged "One Long River" and David Baerwald, the singer-songwriter who provided the whimsical track "Mr. Nagano's Foolish Proposal."(/pull) And "Summer Day" marks a collaboration with keyboardist and producer Mitchell Froom (writer of the Yoshida Brothers' "Hit Song") with additional songwriting contributions from drummer Matt Chamberlain (Tori Amos, Edie Brickell) and Phantom Planet vocalist Alex Greenwald. These album stand-outs fit comfortably alongside more traditional examples of Japanese folk like "Hu Jin" and "Aiya," plus the Brothers' inspired cover of "The National Anthem" from Radiohead's Kid A. The album's final track, "End of the World," was featured on the soundtrack to the Mark Wahlberg/Joaquin Phoenix film, We Own the Night, further enhancing the Yoshida Brothers' profile in America. In their relatively short professional lives, the Yoshida Brothers have had quite an impact on the modern music landscape.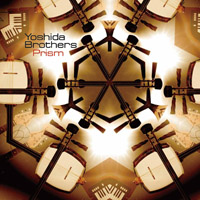 The Hokkaido-born brothers Ryoichiro and Kenichi Yoshida have become recognized masters of their signature instrument, the tsugaru-shamisen. Originating in China in the 16th Century, the three-stringed instrument found its way to Japan through traveling folk musicians and became an integral element of Japanese classical music. The Yoshida Brothers have now taken the tsugaru-shamisen further than any other modern musician, practically reinventing its sound, leading to a musical style both firmly rooted in the traditions of the past and boldly looking forward to the future. In another recording and marriage of modern and traditional sounds, Prism is evidence that the Yoshida Brothers continue to push boundaries in their pursuit of musical exploration, constantly redefining the sound of the shamisen and how it can be fused into new, unique soundscapes.

Click Here to buy
Prism
____________________________________________
The Yoshida Brothers
Biography
Ryoichiro Yoshida: born 1977 (left)
Kenichi Yoshida: born 1979 (right)

The Yoshida Brothers were born and bred in Noboribetsu, Hokkaido. Each picked up the shamisen at the tender age of five, and began studying Tsugaru shamisen under Takashi Sasaki I in 1990. After sweeping prizes at national Tsugaru shamisen conventions, the brothers made their major debut in 1999. The debut album sold over 100,000 copies, which is an extraordinary figure for a traditional folk music release. They won the "Traditional Japanese Music Album Of The Year" category of the 15th annual Japan Gold Disc Award, as well as the "30th Anniversary Of Normalization Of Japan-China Diplomatic Relations Commemorative Special Prize" of the 17th Annual Japan Gold Disc Award. In 2002, the brothers went on their first national tour entitled "Live Soul" performing in 30 cities. The following year, they made their US debut with album Yoshida Brothers from Domo Records and performed in New York and Los Angeles. International release followed in Korea in 2004 where they had performed their first concert in Seoul in addition to the domestic tour that included 28 cities. In the meantime, they released their second US album, YOSHIDA BROTHERS II, and went on a US promotional tour, visiting seven cities. It was a year of significant breakthrough, with participations in other various projects such as an international exchange event in Sweden and a TV commercial in Japan. In 2005, the brothers recorded an album in Los Angeles, followed by a West Coast tour and a concert in Hawaii. In 2006, they toured the US, Spain, and Hong Kong. In Hong Kong they released their very first greatest hits album in their career, and marked favorable sales. Domestically, they launched a shamisen-only national tour. (pull)And in 2007, their music created buzz in the US as their music was used in the TV commercial of Nintendo's Wii.(/pull) The end of that year, the brothers record their much-anticipated album in U.S. that is yet to be released. In 2008, they released album "Best of Yoshida Brothers" and toured in US and Canada. As one of the artistic groups whose scope of activities go way beyond that of traditional Japanese music, the Yoshida Brothers continue to take not only Japan but also US, Europe, and Asia their stage. Their future activities are all the more looked forward to.