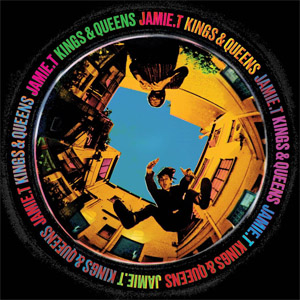 Jamie T does things his own way. Take his novel approach to getting around the sophomore slump. How did the 23-year-old outfox any demons that might've dogged him while crafting Kings & Queens, the follow-up to his 2007 debut Panic Prevention? "I didn't do my second album," he says. "I did my third one instead."
He makes it sound so easy. Such is the insouciance of youth. After all, Jamie Treays wrote and recorded the bulk of Panic Prevention while still a teenager, living under his parents' roof in Wimbledon, South London. His first single, "Sheila," was issued before he'd hit legal American drinking age. At 21, Panic Prevention's mix of bedroom pop, urban beats, troubadour folksiness, and a cavalcade of biting, filthy, and devilishly clever words—delivered at a dizzying clip—had critics comparing Jamie to everyone from the Streets and Arctic Monkeys to Bob Dylan and Joe Strummer.
The public dug him, too. Jamie racked up a pair of UK chart hits with "Calm Down Dearest" and "If You Got the Money." A turn by Oscar-nominated British character actor Bob Hoskins made the clip for "Sheila" a viral video smash. Panic Prevention was shortlisted for the Mercury Music Prize. At the 2007 NME Awards, he was crowned Best Solo Act, beating out Thom Yorke and Jarvis Cocker. And through it all, he toured. Eighteen months total, including his first pass at the US in September 2007 and his American TV debut on Last Call With Carson Daly.
Writing for Kings & Queens had begun on the road; the new "Jilly Armeen" was first recorded on his mobile phone. When work commenced in earnest, Jamie didn't want for energy and ideas. And he's secure enough to admit that some of the latter sprang from outside sources. "I'm very inspired by whatever I'm listening to at the time. And I believe in tipping my hat to someone who's inspired me. It sounds corny, but first and foremost I fucking love music." No pretence, then. "I hate it when people pretend that they've never listened to someone that they obviously sound like." He'd arrived in the public eye seemingly weaned on a musical diet consisting exclusively of British punk, hip hop, jungle and Billy Bragg. Rambunctious, urban fare. But in the wake of Panic Prevention, Jamie went through a heavy Bob Dylan phase ("that ruined my life for a bit"), then fell for the likes of rustic American oddballs including Conor Oberst and Ryan Adams. "I wrote a bunch of songs like that," he reveals. A few, such as the haunting "Emily's Heart," wound up on Kings & Queens, but most were rejected as too gloomy. No worries. This phase was about exploring a process, not rushing to bang out a finished product. "I'd never really picked up an acoustic guitar before, so it was more about learning how to do it." He delved into American hardcore punk, too, shaking off his introspective spell by cranking Bad Brains and Dead Fucking Last. This immersion spawned Jamie's "Fire Fire," the manic punk-rap tune and video that emerged on the net at the end of 2008. But that direction didn't feel 100% right for the album, either.

After all those side trips, Jamie T was ready to return to his roots, and reconvened with best mate and production partner Ben Bones. They recorded at a variety of London studios, as well as back in Jamie's bedroom (albeit in a new house, purchased with his earnings), and Moloko in Hoxton. With the exception of a bit of guitar on "Emily's Heart" and the eerie upright bass on "The Man's Machine" which features additional production by Stephen Street), Jamie and Ben played everything themselves. Even that damned ukulele. One of the most noticeable aspects of Kings And Queens is its emphasis on guitars, from the agitated "Hocus Pocus" to the quiet closer, "Jilly Armeen." Although he can still spit out couplets at breakneck speed (check out "Chaka Demus"), the hip-hop and urban influence that permeated Panic Prevention has evolved. "I just got heartily sick of writing rhymes," says Jamie. "I wanted to write songs." At its most imaginative, Kings & Queens dips into all these elements, yielding hybrids like "Earth, Wind and Fire," where pastoral British folk gives way to loping ska riddims, and "Spider's Web," with its skeletal framework of drum & bass beats.
Jamie T's ability to distill disparate traditions into succinct, thought-provoking songs calls to mind another act he happily hat-tips: The Clash. You can hear it in see-sawingsing-along of "368" and the incendiary "British Intelligence," but at subtler moments as well. "Who doesn't want to write a song like The Clash? I was listening to 'Sean Flynn' from Combat Rock the other day and it is such a horribly sad song. Towards the end their lyrics became quite depressing, but in a lovely, wistful way. It's a definite influence on me." "What can I say? I keep going into record shops to buy fresh, new, upfront music… and come out with handfuls of Jam and Specials seven-inches. Stuff I already own!"
Kings & Queens isn't flag-waving protest rock. And yet, like Dylan and the Clash, this is definitely music forged in a very specific era. Lightning fast lyrics and musical eclecticism mirror the ceaseless streams of information that batter us daily. There are moments of resilience and others of bitterness, honest reactions to the political, social, and financial crises of our times. These are songs of confrontation and confession, and sometimes jaw-dropping audacity. This is Jamie T, two years older, a little wiser, and much more experienced. "I made Panic Prevention four years ago. If this one doesn't sound different then it's a shame." "If this album could achieve any one thing, it would be that forces people… to accept that I'm not going to do the same thing over and over again," he concludes. "There are artists that we all trust to do that, and I want to win the right to be one of those artists."
Bio courtesy of EMI Music