"Since we're a couple, our love and musical communication gives the music a sense of urgency when we play live," Cupcakes explains. "We create something new every time we play we play and invite the audience to take part in the process," and that is exactly what happened when the duo brought their explosive sound the New York City's famed Mercury Lounge in early June. Click Here to see gallery With Hank supplying the bass hooks and Cupcakes drumming like a mad woman the show became one gigantic party in support of Beyond Race Magazine, the ground breaking music & culture magazine in danger of shutting down. The first 50 people at the show received a free compilation CD "Guilt By Association" donated by "Engine Room" record label while 10 lucky concertgoers got a brand new pair of sneakers donated by Converse. Although this particular show was about helping out Beyond Race Magazine Hank and Cupcakes have been touring the world on the heels of their infectious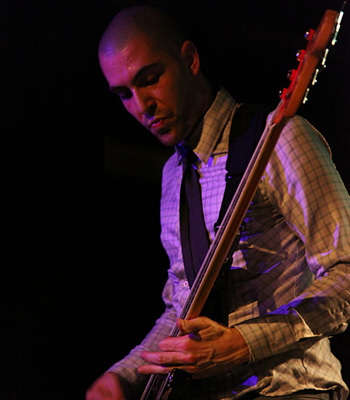 self-titled debut EP which includes the new wave dance track "Ain't No Love," and "Pleasure Town," a club-fused 80's throwback track that belongs on a Giles Peterson podcast. Filmed on Coney Island's boardwalk, the video for "Pleasure Town" uses jittery camera work to capture the playful essence of a Hank and Cupcakes show.
Since arriving in Brooklyn via Israel over a year ago, Hank and Cupcakes have generated buzz throughout the New York local scene with energetic live shows, intense sounds, and simmering sexuality. While Hank was born in Jerusalem Cupcakes grew up commuting between Australia and Israel. Despite having six years of classical piano training her musical taste shifted at the age of 18 when she witnessed African drummers performing on the beach in Tel Aviv. "I was hypnotized and started learning percussion," Cupcakes explains. "I got the basics and then took it from there." Hank, on the other hand, grew up doing art until he started listening to The Beatles. "I like the low frequencies, and never wanted to front a band" Hank laughs. "I guess it's just my personality." If Hank and Cupcakes hit your town anytime soon don't hesitate to see them live. It'll be a fun time for everybody. Who knows, you may get more than bargained for…..like a fresh new pair of Converse sneakers

Photo Gallery by Alyssa L. Moran
All images are copyrighted.
**Click on any picture below to initiate Lightbox Gallery.