By Lindsay Wallace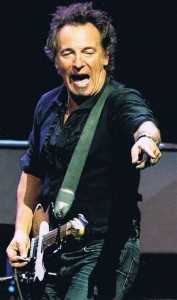 If you're a music lover who has tried buying concert tickets from Ticketmaster and Live Nation, you've probably noticed how ridiculously difficult it is to find good seats. Blame hackers like the "Wise Guys", who were charged today with fraud, among other things. These hackers are behind the elaborate scheme to buy out the best seats and resell the tickets for more than face value. Today, three of the four self-titled "wise guys" appeared in Newark, New Jersey's federal court. The hackers are responsible for breaking into the computer ticketing systems to buy millions of the best tickets for numerous artists like Bruce Springsteen, Miley Cyrus, and Billy Joel, among others.
The men bought tickets from Ticketmaster before the general public had the chance to, and resold them, profiting in more than 28.9 million dollars between 2005 and 2008. At a news conference in Newark today, US Attorney Paul Fishman stated, "At a time when the Internet is bringing convenience and fairness to the ticket marketplace, these defendants ran a sophisticated fraud and hacking operation that allowed them to buy more than 1.5 million tickets."
Some of their resold tickets were marked up to 1,000 dollars more than face value. All four "wise guys" were charged with conspiracy and wire fraud. Three of the four men were also charged with obtaining and accessing information from a protected computer with intent of fraud. Wire fraud can result in up to 20 years in prison.
According to Business Week, the men worked with programmers in Bulgaria to defeat the technology known as CAPTCHA, which is the program that asks the users to read distorted letters and numbers before purchasing tickets. Apparently the "wiseguys" also hacked the audio CAPTCHA intended for the visually impaired.
Source: http://www.businessweek.com/news/2010-03-01/-wiseguys-hack-way-to-springsteen-tickets-u-s-says-update1-.html