The meeting of two personalities is like the contact of two
chemical substances; if there is any reaction, both are transformed.
– Carl Jung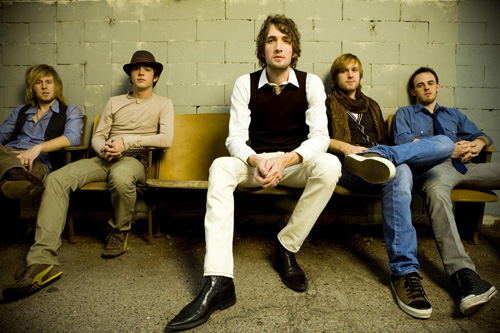 Assuming Jung is right, the same logic would dictate that the meeting of five personalities would create an equal reaction, five-fold in its power to change. Such a meeting has taken place. Despite the remote Texas setting, five boys found each other. Accident, inevitability, chance, fate…no one will ever be able to explain whatever it is that draws the colors of the spectrum together into one stream of pure white light. Green River Ordinance was born from this light. Brothers Geoff and Jamey Ice, Josh Jenkins, Joshua Wilkerson and Denton Hunker transformed their lives into one singular dream. The dream of creating music. While most kids their age were worrying about high school, they were writing and performing their own music. Guitarist Joshua Wilkerson's father played in bands, touring with The Beach Boys, Cheap Trick, The Guess Who and The Fabulous Thunderbirds. Brothers Jamey and Geoff Ice were raised by music-loving parents who even followed The Grateful Dead at one time. With all the music in their lives, all they needed was a common denominator that would bring them together. Songwriting, it seems, was that catalyst. Jamey and Geoff formed the original GRO, with a different lineup of musicians that came and went as time went on. At the tender ages of 16 and 14, they were seasoned club performers who already had a local following. When Josh joined the band they discovered the bond they had in writing songs. There was great freedom in shaping and hashing out the songs that they wrote. It was the most incredible experience. (pull)When Joshua and Denton joined the band the songwriting was taken to a whole new level. There was a certain magic that happened when all five of them got into a room together to write songs. They found that every one was able to contribute to the songwriting process; and that certain chemistry would took place as they all worked together.(/pull) In between shows they would sit around and work on songs. Each person would bring their own ideas to the band; sometimes it would just be a riff, or a tune. Sometimes it was a whole piece. But together they found that they would create a free flow of ideas between the five of them, as they encouraged and pushed each other forward. At the end of the process after much work and challenging each other, the song would be complete. They recorded their first EP in the basement of their church, a CD that sold out its first pressing in just a few months. While still not old enough to be customers in the bars they played, they played to packed houses. An upheaval of popular local support led them to open for Bon Jovi in Dallas in 2006. The momentum grew. They were soon opening for or touring with bands like Collective Soul, Hanson, SisterHazel, Blue October, Bowling for Soup, Simple Plan, and Flickerstick, to name but a few. Accolades flowed toward them: The Best New Band of 2003 by the Fort Worth Weekly, then The Best Live Band the year after. In 2006, they were named Best Artist of the year, had the Rock Album of the Year, and the Song of the Year at the Fort Worth Music Awards. In 2008, they repeated the Artist of the Year award by the same folks. MTV Best on Campus named GRO one of the top twenty college bands in the U.S. Radio Shack selected their song "Piece It Together" to pre-load onto over 500,000 MP3 players they sold around the world. Blogcritics.com named them the top unsigned band in the world in 2006. That changed in 2007 when they inked the deal with EMI/Virgin Records, joining a stable of talent that reads like a Who's Who of rock music. From the Immortals like Pink Floyd and Bob Seger to the newer classics like Beastie Boys and Coldplay, GRO has now taken their place on the very professional stage of the music industry. But the band is anything but green. They've lived the life, and on stage or in the studio, this fact is obvious. Smooth, polished and professional, their musicianship and stage presence belies their youth. They look like rock stars. But that's where the similarity ends. You won't find these young men bashing their way through hotel room walls. Even after all this time in the business, they are still as gracious, enthusiastic and real as the day they recorded that first CD in their church basement. They are as likely to be seen having a quiet lunch with their grandparents as they would be hanging at the Whisky in the wee hours of Sunday morning. Positive in the face of all the adversity rock and roll can throw at them, the joy they have with each other, and with their music, shines in their faces. They're making their own rules, taking their own place in time, making their own mark on the world. Their new album, Out of My Hands, will be revealed in February of 2009. The band spent a year writing and perfecting the songs and then another eight months recording with producers Mark Endert (Natasha Bedingfield, Maroon 5, Gavin DeGraw), Jordan Critz and Paul Ebersold (Sister Hazel, 3 Doors Down, Third Day). The band has always had a strong vision about what they wanted to do musically, and are thrilled to see it finally come true.
Josh Jenkins (vocals/guitar/piano)
Geoff Ice (bass)
Jamey Ice (guitar)
Joshua Wilkerson (guitar)
Denton Hunker (drums)



All the photos in this gallery are from Green River Ordinance's Rooftop Performance at Capitol Records in NYC on Wednesday, August 5th, 2009. No pictures or material may be reproduced or rebroadcast without written consent from the owner.
Photos by:


All images are copyrighted.
**Click on any picture below to initiate Lightbox Gallery.