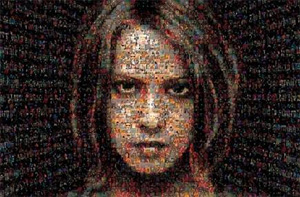 Hyde is the singer for the Japanese rock band L'Arc~en~Ciel. Hyde keeps his personal information secret. He confirmed his birthdate in an interview for the 2002 March issue of Rockin On Japan. He joined L'Arc~en~Ciel in 1991 after having another band called Jerusalem's Rod where he was the guitarist. In addition to being the lead singer and main lyricist of L'Arc~en~Ciel, Hyde has solo projects, as well as his own record label under Sony Japan called Haunted Records. After L'Arc~en~Ciel released the single, "Spirit dreams inside" in 2000, the band went on an unofficial hiatus as each of the members began work on solo careers. This was Hyde's debut as a solo artist. (pull)In October 2001, Hyde released his first solo single, "Evergreen." After two more singles, "Angel's Tale" and "Shallow Sleep," Hyde released his first solo album, Roentgen, on March 27, 2002. An overseas edition featuring English lyrics was released in July the same year.(/pull) Hyde's next two singles, "Hello" and "Horizon," were released June and November 2003 respectively, and second solo album, 666, was released on December 3, 2003. In 2003, Hyde starred alongside Gackt in the Japanese film Moon Child. In a duet as part of the project, Hyde and Gackt sang "Orenji no taiyou", and when sang live, Hyde could not be there because he was on a music tour. The song was also released on Gackt's fourth full-length album, Crescent. In December 2003, Hyde's song "Shining Over You" from his 666 album was used as the commercial song for Namco's Baten Kaitos: Eternal Wings and the Lost Ocean. In 2004, Hyde took on the role of the guitarist Adam in the movie Kagen no tsuki/下弦の月 (Last Quarter), a movie based on the manga by Ai Yazawa. The movie's theme song, "The Cape of Storms", came from Roentgen. On December 25, 2000 Hyde married model/singer/newsreporter Megumi Oishi and she gave birth to their son on November 11, 2003. After a three-year hiatus, L'Arc~en~Ciel reunited for a series of seven concerts titled "Shibuya Seven Days" in June and July 2003. At the conclusion, they announced a new album, Smile, which was released in March, 2004. In the summer of 2004, L'Arc~en~Ciel had their North American debut (as part of their Smile tour) in Baltimore, Maryland, at Otakon. L'Arc~en~Ciel's next album, Awake, was released in June 2005. It was accompanied by a Japanese Awake tour in August the same year. A second, larger tour titled Asia Live 2005 was held shortly thereafter. (pull)The single "Link" was released in July 2005. It was then used as the opening theme for the anime movie FullMetal Alchemist: Conqueror of Shamballa.(/pull) In the summer of 2005, Hyde composed the music for the song "Glamorous Sky." The song was used in the movie Nana, another film based on a manga by Ai Yazawa. The song was sung by fellow Japanese artist Mika Nakashima and the lyrics were written by Ai Yazawa. In August, Hyde and his solo band performed the song on Music Station with Mika Nakashima, Hyde being on guitar. The single "Countdown" was released on October 5 2005, with a track list including Japanese & English versions of the song "Countdown" made for the Japanese release of the movie Stealth and also a special rock version of "Evergreen" (originally from Roentgen). A cover of the single "Countdown" was used as the "semifinal" stage in the Nintendo DS rhythm game Moero! Nekketsu Rhythm Damashii Osu! Tatakae! Ouendan 2. Later that month, Hyde hosted Halloween of the Living Dead, a three-night event held at Club Citta on October 29, 30th & 31st. Each night featured performances by Hyde himself, a guest artist/band and Jack-O-Latern. Artists/bands who took part in the Halloween performances are Monoral, UVERworld, Olivia Lufkin, HIGH and MIGHTY COLOR, Yasu (of Janne Da Arc), & Mika Nakashima. The group Jack-O-Latern consisted of Hyde and the group Monoral playing many Halloween favorites such as the Ghostbusters theme.
Starting in January 2006, Hyde's single "Season's Call" was used as the second opening theme to the anime show Blood+. Which blew up the word of L'arc~en~ciel (Hydes band) This single was released on February 2, 2006. Hyde's album, Faith, was released on April 26, 2006. Faith was accompanied by a five-month tour with many locations in Japan, some exclusively open to members of his fanclub. After signing on with Tofu Records as a solo artist, a US debut concert was scheduled as part of the Faith tour, which was held at Slim's in San Francisco, California on July 5, 2006. Tickets for the event went on sale online at 1 p.m. EST on April 2, 2006 and sold out in three minutes. The second round of sales was held April 9, also online, and also sold out. A second concert, held at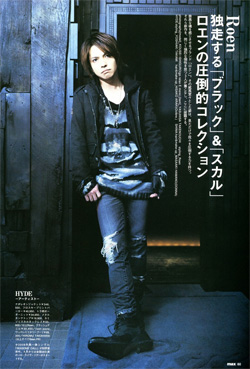 House of Blues in Anaheim, California, on July 2 was added and tickets were sold out, as were two more US concerts (the Fillmore, San Francisco and House of Blues, Hollywood). The overseas version of Faith was released on June 27, 2006 and included a bonus DVD featuring music videos for both "Countdown" and "Season's Call". In Faith, Hyde uses a sunburst Fender Jaguar as his main guitar; contrary to 666 album version, where he uses Gretsch guitars. Hyde also made a brief appearance at the Tofu Records booth at Anime Expo 2006 in Anaheim, California on July 1 for a question and answer panel. Following the completion of the FAITH tour, a DVD of the concerts was announced and was released November 8, 2006. Hyde returned to work with L'Arc~en~Ciel which on 31 May 2007 released their first single in two years, Seventh Heaven.
Source: Wiki
CLICK BELOW
HYDE's Greatest Hits
1. MADE IN HEAVEN
2. IT'S SAD
3. EVERGREEN [DIST.]
4. JESUS CHRIST
5. COUNTDOWN
6. THE OTHER SIDE
7. SHINING OVER YOU
8. HORIZON
9. SEASON'S CALL
10. SWEET VANILLA
11. HELLO -Album Mix-
12. HIDEAWAY
13. PRAYER
14. MIDNIGHT CELEBRATION
15. UNEXPECTED [DIST.]
16. THE CAPE OF STORMS
17. GLAMOROUS SKY [ENGLISH VER.]
HYDE will also be busy in July touring the US as part of VAMPS alongside Oblivion Dust's guitarist K.A.Z.