On Wednesday, October 20th, I attended an open, public hearing about the expansion of Success Charter Network into vacant space at PS 145. The meeting, held in PS 145's auditorium, was open to the public and attended by parents from both PS 145 and SCN's schools, as well as by employees of both institutions, myself included.This was the first time I had been present at such a meeting, although I had seen videos of prior events and heard stories about their ferocity. Before the meeting even started, supporters of PS 145 had begun their "PS 145, Yes We Can!" chants in both English and Spanish. The battle lines were being drawn for a contentious meeting, although I'm puzzled as to how or why there should be a battle regarding something as imperative as a child's education. The meeting began with Noah Gotbaum, president of the Community Education Council, asking a camera crew hired by SCN to disassemble citing rules that required filmmakers have permits and claiming to loud cheers that Eva Moskowitz – SCN's founder – has to abide by the same rules that everyone follows. Gotbaum and his board then kicked-off what would become a two-hour display of lying, fear-mongering and lawlessness that would include the arrest of a co-worker and friend who was simply exercising her first amendment (and state protected) right to film a public meeting.
The meeting began calmly enough, with district administrators explaining their roles to parents. It wasn't until my colleague resumed filming that things got heated and fear reared its ugly head. Once board members realized that filming had resumed, they paused the meeting, citing the camera as a distraction, which interestingly enough, wasn't until they had noticed it. Had it continued to run in silence from a location out of their view, it would have distracted no one. The camera also drew the ire of parents from PS 145, one of whom claimed that it endangered the safety of her child. Community members swarmed my colleague, creating a real disruption. Despite this, she showed immense fortitude by continuing to film. Noah Gotbaum, on the other hand, showed immense deceit as he brazenly ignored our Constitution, the open meeting laws of the state of New York (http://www.dos.state.ny.us/coog/openmeetlaw.html) and the guidelines of the NYC Department of Education (http://schools.nyc.gov/RulesPolicies/ChancellorsRegulations/default.htm).
The crowd became so riotous that the meeting could not continue and the police were called. My colleague was arrested to loud applause. Both the DOE and the DA have neglected to press charges for the illegal arrest, but it highlights the problems facing those of us who are struggling to bring a first class educational opportunity to every family in this city, state, and nation. Fear is a powerful thing, and it's currently being utilized with maximum efficiency by those inexplicably opposing education reform and charter schools. Success Charter Network currently operates seven schools, five in Harlem and two in the Bronx. Next year, the network plans to open two more schools, one in the Bronx and one in the Upper West Side. The key for the network is to find space. This usually means sharing a building with a pre-existing school, but it does not mean forcing that school out nor does it mean taking students away from that school.
Despite these facts, and despite the fact that PS 145 has open rooms that could seat 320 extra students, Noah Gotbaum and State Senator Bill Perkins are on the front lines claiming that bringing a charter school into the same building as PS 145 would mean the end of the school. The language they use would make you think every time SCN opens up a school, we beat up five year olds. The sad fact of the matter is that charter schools and public schools are serving the same purpose. In fact, charter schools ARE public schools. Admission is free and done completely via random lottery. We're fighting on the same side in the same battle, but yet there are people who make-us out to be demons. Senator Bill Perkins accuses us of fudging test scores, and nearly everyone is under the misguided perception that we don't serve children with Individualized Education Plans (IEP), students with special needs. Neither of those things could be farther from the truth. SCN's mission is harmonious and synonymous with the mission of PS 145 and every other school in this city: to provide an outstanding education for the children.
At SCN, we know our system works, and if we're going to continue doing an exemplary job of educating, then we're going to need classrooms. We're not seeking to push PS 145 or any other school out of their space. We're seeking desks for the 7,000 students on our waitlist, a number that is sure to grow. We're seeking to take small steps towards fixing a big problem. Wanting to move into PS 145 is not a criticism of their teacher's ability to educate; it's based solely on the fact that there are empty rooms in that building. The sad and truly inexplicable part of all this is that there some people who are willing to fight tooth and nail against something that is going to have a positive impact on children, on communities, as well as our city and country. Education is a right, and in America, a great education should be a right. But Noah Gotbaum and others are campaigning against our right to provide that education, and they're using lies to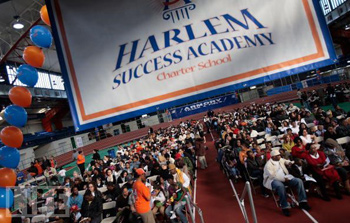 incite fear among the people that would benefit from what we do.It's hard to fathom that someone would go so far as to knowingly break the law in order to prevent a child from obtaining a first class education, but unfortunately, that's the opposition that exists. Perhaps this unfortunate incident will serve as a catalyst for reformers and educators to put the best interest of children ahead of the politics behind 300 empty desks.
Will Staton is the community relations coordinator at Harlem Success Academy 5