In Lewis Carroll's
Through The Looking Glass
Alice wonders what life is like on the other side of a mirror. Following her curiousity Alice enters the mirror where she discovers a vast world of unanswered questions and paradoxes that actually exists within herself. Her journey is one of self-discovery, an introspective look at her own reflection, and on his newest album,
Sparkle Lane
, Edward Rogers
Click Here for Bio
gives you an inside view of the looking glass he walked through on his way to wonderland. "Sparkle Lane is a street in England where my grandmother lived," Rogers explains. "The concrete was mixed with pieces of broken glass, so when I was a kid and I'd go to my grandmother's house in the evening, the street would always look like it was sparkling. That's how life felt to me as a kid. And there was so much going on in England at the time; the music scene was happening and London was swinging, so England was where I wanted to be. So when I got to America, it was a major culture shock. The food and TV were a lot better, but I still felt uprooted," and the opening song, "Symbols 'N' Mascots" uses lyrics like "Relics in my mind from a century I left behind," to capture the emotional displacement. While songs like the album's title track and "Boys In Grey" delve deeper into a past Rogers reconnects with other songs take you in the opposite direction. "Walk Under the Clouds" is a diatribe about people who carry "the weight of the world" on their shoulders. People who secretly live in fear and "can't afford to let them see you walking slow." Listening to this gives you the sense that at one point in his life Rogers was (or may still be) this kind of person. Other songs that tap into this frequency are "Original Excess Boy," a story about a selfish boy who "used people like toys," and the captivating "Last of the Artful Dodger," a beautifully crafted orchestration which includes violins and sitars. Sonically reminiscent of The Beatles' "Blue Jay Way," "Last of the Artful Dodger" plays like
an open letter to all the mis-guided souls who are "going down the wrong path, further than before." Lyrics like "I'm trying to be the last of the artful dodgers" and "Can there never be a stop to our behavior" come off like words of wisdom from an experienced veteran of this lifestyle. "This record is a lot more me than anything I've done before, because of the nature of the songs and because of the way it was recorded," Rogers notes. "That was intentional. It was important to me to push myself forward a little bit more. I wrote most of these songs on my own, and I really focused on getting them to be exactly what I wanted them to be." The finished product is a collections of soul-clenching songs that demonstrate how deep the rabbit hole can get. Rogers' honesty and vulnerability is what will entice you to dive in head first. "I'm motivated by the urge to make music and express myself, rather than by some abstract idea of being some kind of pop star, so I feel like I'm making music for the right reasons," Rogers asserts. "I feel like this record really reflects me, more than anything I've done before, so I feel like I've achieved what I set out to accomplish."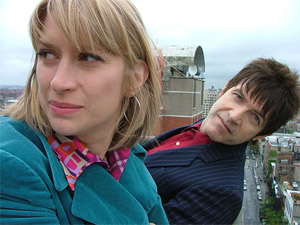 T
he New York-based Rogers comes by his Anglophilia honestly. He spent the first twelve years of his life in Birmingham, England, where his youthful imagination was captured by the booming British music scene. But his youthful reverie was interrupted when his father abruptly decided to move the family to America. The resulting feelings of displacement, culture shock and geographical yearning provide much of the inspiration for
Sparkle Lane
, as reflected on such numbers as the playful "Symbols 'n Mascots," the bittersweet "Passing the Sunshine," the brightly acoustic "Land of the Free" and the album's haunting title track.
It wasn't long before Rogers embraced the energy of his new hometown's musical community, playing drums in a series of local bands. He was temporarily sidelined by a debilitating accident, but emerged from that experience with a strengthened creative resolve, determined to make music on his own terms. He relaunched his musical career with pair of albums as a member of the folk-pop foursome Green Rooftops, before unveiling an unmistakably personal songwriting vision on the solo releases
Sunday Fables
and
You Haven't Been Where I've Been
. He also released a pair of albums, Rendezvous and The Summer That Changed, as part of Bedsit Poets, collaboration with noted singer/songwriter (and fellow English expat) Amanda Thorpe. While
Sunday Fables
and
You Haven't Been Where I've Been
featured musical contributions from such notable friends as Byrds founder Roger McGuinn, Zombies members Rod Argent and Colin Blunstone, and The Church's Marty Willson-Piper, high-profile guest stars are conspicuous in their absence from Sparkle Lane. Where his prior releases found Rogers co-writing with noted New York tunesmith George Usher, Sparkle Lane was largely penned by Rogers on his own.
Sparkle Lane also draws upon the talents of some notable kindred spirits. Don Piper, who co-produced the album with Rogers, is a celebrated songwriter and bandleader in his own right. Pete Kennedy, who adds stellar guitar work as well as co-writing three songs and mastering the album, is half of the beloved folk-pop duo The Kennedys. Bassist Sal Maida's extensive resume encompasses stints with Roxy Music and Sparks, as well as his current membership in Cracker. Keyboardist Joe McGinty has worked with everyone from the Psychedelic Furs to Ronnie Spector, and is the mastermind behind the long-running Losers Lounge series of all-star tribute shows, in which Rogers has long been a frequent performer. Claudia Chopek (violin) has toured and recorded with Moby, TV on the Radio and the Jonas Brothers, among others and recently played a show with Bruce Springsteen. And drummer Konrad Meissner's credits include work with The Silos, Graham Parker and Mary Lee's Corvette. That unique assortment of disparate talents comes together to bring Edward Rogers' creative vision to vibrant musical life on Sparkle Lane, adding another dynamic chapter to an already impressive body of work.