By Sam Frank
Chester Bennington may have found global success with Linkin Park, but just one day after the release of his new band's debut album Bennington pumped New York City's Blender Theatre full of rock mayhem.
Out Of Ashes is Dead By Sunrise's debut album, and on it Bennington also performs guitar and keyboard. All extra instrumental, programming and production was undertaken by Julien-K members Amir Derakh, Ryan Shuck, Brandon Belsky, Elias Andra, and Anthony "Fu" Valcic.
On stage, these guys were animals, sending blasts of rock fury throughout the packed Blender Theatre. The most amazing part of this show, besides the little ten year old girl at stage left screaming "CHESTER!!!!!!!" as loud as she can, was how familiar the audience was with Dead By Sunrise's music.
Of course people knew the debut single, "Crawl Back In," because of its early release, but songs like "Let Down" and the potent "Inside Of Me" just hit stores a day prior to the show so it was surprising to hear the audience singing these songs as if they've been around for years.
If you plan on seeing these guys live (which you definitely should if they're in your area) be forwarned, you won't hear Linkin Park, Julien-K, or Orgy. You'll be headbanging to Dead By Sunrise.
___________________________________
SET LIST:
Crawl Back In
Condemned
Morning After
Fire
Let Down
Walking In
Too Late
End of the World
My Suffering
Inside Of Me
20 Eyes
All the photos in this gallery are from Dead By Sunrise's pounding performance at New York City's Blender Theatre (@ Gramercy) on Wednesday, October 14th, 2009.
Photos by:
All images are copyrighted.
**Click on any picture below to initiate Lightbox Gallery.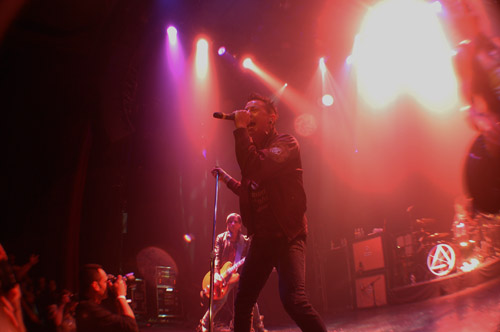 CLICK ABOVE FOR BAND BIO: