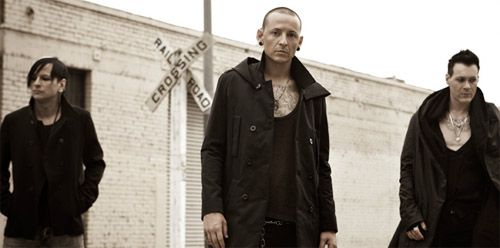 Dead by Sunrise started to form in 2005 while Bennington was writing songs for Linkin Park's Minutes to Midnight. According to Bennington, "I came up with a few songs that felt and sounded really good, but I knew they weren't right stylistically for Linkin Park. They were darker and moodier than anything I'd come up with for the band. So I decided to work on them on my own rather than turn them over and have them transformed into Linkin Park tracks." However, the foundation for Dead by Sunrise was laid much earlier, when future bandmate Shuck met Bennington during the recording of Linkin Park's first album
Hybrid Theory
. In an interview, Shuck states that "I always used to go to his house and hear him play acoustic guitar. And I always thought to myself, 'Oh my God, these are such good songs.' The band's name, which was previously "Snow White Tan," reflects the time during the album's recording. In an interview, Bennington states that (pull)"I came up with the band name because in the beginnings of making this album, I was partying … we'll call it partying. It wasn't much fun, but we partied a lot. And there was a lot of times where I was kind of in a really self-destructive place, and sometimes it felt like you weren't sure if you were going to make it to the next day. The name kind of evolved from that lifestyle(/pull), and the title of the record,
Out of Ashes
, is kind of coming out of that self-destructive path I was on, and rising from the ashes, so to speak." On May 10, 2008, Dead by Sunrise performed three songs ("Walking In Circles", "Morning After", and "My Suffering") at the 13th anniversary party for Club Tattoo in Tempe, Arizona. The song titled "Morning After" was written by Chester Bennington and originally performed on December 9th, 2001 at the Live in Berlin concert. This was the first time that Chester had "officially" performed the song under a new name–Dead by Sunrise. In addition, this band has recently started touring with Linkin Park in Europe and Japan. In an interview with MTV, Bennington stated that "we're actually going to be jumping in the middle of [Linkin Park]'s set, playing a few songs, then jumping out and letting LP finish out the set."During their debut European tour the band took time out to send a message to the German Armed Forces. Recording of the band's debut album began in July 2008 after touring for Linkin Park had finished. Working simultaneously on his solo album and Linkin Park's next record, Bennington recorded Out of Ashes with producer Howard Benson (who has also worked with My Chemical Romance and Daughtry) and bandmates from Julien-K. Bennington wrote most of the songs on an acoustic guitar before working with his band to reshape the tracks into hard rock, a ballad, or even removing all rock influence and creating a synth-driven track. Linkin Park bandmate Mike Shinoda confirmed that Out of Ashes is "much more of a rock album [than Linkin Park's albums]." Also of note, Bennington participated in all aspects of
creating the record, including programming and production. Videos have been filmed for "Crawl Back In" and "Let Down" with the former serving as the album's first single. On August 16, "Crawl Back In" debuted on Dead By Sunrise's MySpace; the song can currently be found on iTunes in the US. On September 1st the song "Fire" was uploaded to Dead By Sunrise's MySpace. Also that song is offered if the album is pre-ordered. On September 8th 2009, the video "Crawl Back In" was released.