By Lindsay Wallace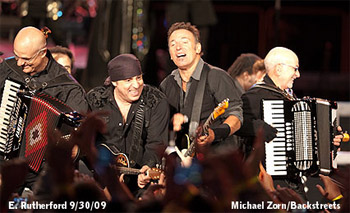 On October 8th and 9th, the legendary Bruce Springsteen and the E Street Band rocked Giant's Stadium with the final of five shows at the venue. These shows are the last that Giants Stadium will ever see before it is knocked down.
At the start of the show on Thursday, October 8th, Bruce greeted the 60,000 screaming fans in attendance when he hit center stage to smile and wave before grabbing his microphone, furrowing his brow and launching right into "Wrecking Ball." As we all know and as Bruce has told us before, he's a really great story-teller – and this may be the first time anyone has written a song from the perspective of a piece of architecture.
"Wrecking Ball", written especially for these last five shows at Giants Stadium, is a roaring tribute to the sports complex that he has played at twenty-four times throughout his career. The tribute consists of lyrics like, "My home is here in these Meadowlands, where mosquitoes grow big as airplanes. Through the mud and the beer, I've seen champions come and go. So if you got the goods mister, if you got the balls, then step in line and bring on your wrecking ball!" Bruce commented after the song,

"Well, it's nice to be in my backyard and be here to shut the old lady down. We've had a lot of great nights here, let's make this another one." And for a true Bruce fan, measuring the quality of an E Street Band show is a superfluous exercise. They're always going to be first-rate, you're always going to get your money's worth and those thousands of people lucky enough to have a ticket will never go home disappointed. Although Friday night's show proved the rampant rumors about onstage guests to be false, this spectacular show featured 31 songs – some new, and of course, some old.
On October 8th , the band performed the critically acclaimed 1975 album Born to Run in its entirety while on the next night, the Boss's much-hyped final performance was a complete rundown of his critically acclaimed 1984 iconic album, Born in the USA. Before Bruce ripped into "Born in the USA", he noted that the title track was the first song he ever played at the stadium those many years ago.
It's a rare occasion to hear an entire Springsteen album played in concert, so those in attendance at the final Giants Stadium shows were in for a unique treat. But he didn't forget other classics like "Rosalita" and "Spirit in the Night" off of his debut 1973 album.
Keeping up the spirit of good fun and camaraderie with his fans, Bruce picked out one lucky little fan on Thursday night to sing into the microphone for "Waiting on a Sunny Day". Moreover, this sixty-year-old rock star wasn't scared to throw himself into the pit audience and be carried around, crowd surfing between songs. As always, Bruce took time to go around and read signs in the audience. This led to, at the end of "Dancing In the Dark", The Boss pulling a bald man out of the audience who had been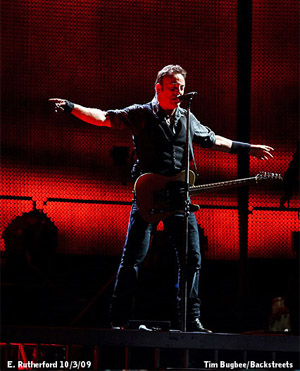 holding a sign that read, "Bald Guys Are Great Dancers" before doing a silly dance with him.
Later, he read a marriage proposal that one audience member wrote on a sign, to which the crowd erupted in thunderous cheers. This crowd came to see the hits, which of course Bruce happily delivered to them. And however bottomless the love for Bruce's past glories, the most exciting thing about these shows is that everyone there knew they were witnessing a historic event.
The quintessential Jersey Boy closed down New Jersey's most famous architectural icon. While Bruce could have made Friday an even more amazing show by following through with the rumors that were floating around about guest appearances, it was interesting to see that Bruce himself is bigger than all of that. The only thing that stadium needed on Friday was Bruce and the E Street Band, and they delivered.
Indeed, it was obvious how much fun the band was having — one look at Bruce's face, especially during the fireworks portion of the show, and you know he's enjoying himself just as much as anyone in that stadium. He kept it light hearted and fun, which all music is supposed to be about, right?
The E Street Band slightly bulked up the music for the 2009 versions of both albums, and the song "Born in the USA" included an epic drum solo from Max Weinberg. Searing guitar solos were heard from Nils Lofgren during "Cover Me", among other hits.
The band proved their songs have not faded in the least – in fact, they were able to make those classic albums even better with their updated sound. The final song on Thursday nights show was a cover of the extremely upbeat Beatles song "Twist and Shout;" However, Friday night's finished with Tom Waits "Jersey Girl", which captured the moment perfectly. Bruce told the audience that this was the stadium's "last dance" to which the crowd cheered loudly as Bruce smiled out at everyone.
A harmony of 60,000 people singing, "Sha-la-la-la, I'm in love with a Jersey girl…" isn't an experience that will soon be forgotten, even by Bruce himself. Bruce dedicated this last good-bye song "to all the crew and staff that's worked all these years at Giants Stadium. After everybody left the stage, almost nobody in the stadium moved. They moaned "Bruuuuuuuuce" over and over again until the lights went off. As rain began to fall, the lights came on in full, signifying the show was actually over.