Head First is Goldfrapp's most powerful trip to date, a speedy rush of synth optimism, euphoria, fantasy and romance. With life affirming lyrics and stellar production it lifts off at full tilt and takes us on a journey to the heart of 2010. The duo's fifth album, 'Head First' is written and produced by band mates Alison Goldfrapp and Will Gregory and was recorded throughout 2009 in Bath and in London. The diversity, ambition and direction of the new album highlights Goldfrapp as true agenda-setters and modern British musical icons. 'Head First' follows the critically acclaimed 'Seventh Tree', which saw the NME describe Goldfrapp as 'having done the seemingly impossible and become even more fantasy fabulous' and as 'sublime, anthemic pop' by The Independent. 'Head First' is the latest in a brilliantly consistent body of work – from the captivating electronic balladry of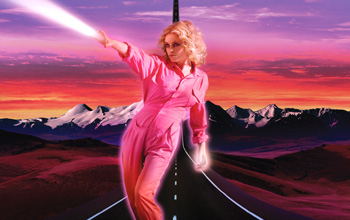 Mercury nominated debut Felt Mountain and its distorted-dancefloor follow-up, Black Cherry to the glitterball glamour of Supernature which came out in summer 2005 and went on to sell over a million copies worldwide.
Head First received mostly positive reviews, with most critics noting its heavy influence of 1980s music. Heather Phares of Allmusic stated that the duo "explore the uber-glossy productions, staccato melodies, and dramatic key shifts that were the hallmarks of anthems that some might not want to admit they liked decades later", noting the influence of Giorgio Moroder, ABBA and Xanadu-era Olivia Newton-John. Giving the album a B rating, Leah Greenblatt of Entertainment Weekly wrote that "Head First sounds as if they've been commissioned to paint the inside of Olivia Newton-John's mind, circa 1980: all strobe-lit synths, feathery vocals, and goofy synonyms for sex." For BBC Music, Ian Wade raved: "Free of anything in the slightest bit terrible, Head First is amazing stuff."
Spin magazine's Lindsey Thomas said that "[o]n Head First, […] Will Gregory creates a pitch-perfect neon-lit '80s wonderland with Hi-NRG bass lines and plenty of that fat synth sound made famous by Van Halen's 'Jump.'" Alexis Petridis of The Guardian noted that "Head First returns Goldfrapp to commercial waters – this time the glossy, optimistic 1980s pop that provides the playlist backbone of Magic FM", but "there are instances when the songwriting isn't that exciting, when the choruses don't ascend quite as stratospherically as they're supposed to, and you're left listening to what is, in essence, an MOR pop album." Rolling Stone's Will Hermes also gave the album a mixed review, claiming that "[t]his may be the most lovingly detailed synth-pop album since the golden days of Yaz and Kim Carnes. Yet expert execution doesn't always signal a good idea." According to Pete Paphides of The Times, "[t]he best moments on Goldfrapp's album Head First — Believer and the title track — also double as its uncoolest ones." Marc Hogan wrote for Pitchfork Media that "[b]ringing 1980s roller-disco synth-pop motifs out of mothballs has given the UK duo their most immediately entertaining album since 2005 electro-glam juggernaut Supernature", but stated that the only problem is that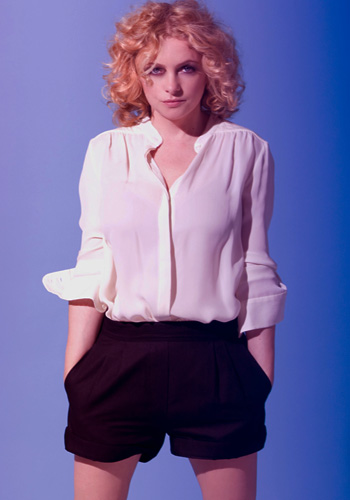 "[t]hey fail to give each song a face as memorable as the overall album's Jane Fonda workout-video get-up." Sal Cinquemani from Slant Magazine said that "Head First is a brief trip, but it's saturated with enough hi-NRG motifs and sounds for countless sweaty workouts at Jack LaLanne."
The album also received criticism for following the musical directions of artists that have been influenced by Goldfrapp. Andy Gill of The Independent noted that "Goldfrapp now suddenly effect a complete volte-face on Head First, heading back to the electronic pop of their three previous releases", which is "a curious, circuitous trajectory which gives the impression that Goldfrapp are in the invidious position of playing catch-up to all the Gagas, LaRouxs and Little Boots upon whom they must surely have been a major influence." Barry Nicolson was emphatic in his review for NME, saying: "Once the source of pop inspiration, now it seems they're content to follow." He further commented that the album "is basically an upbeat electro-pop record with one foot in the '80s, much like roughly 85 per cent of music made in the last two years." Kitty Empire from The Observer agreed, stating: "Having pre-empted the wave of womanly electro, they appear now to be behind rather than ahead of the curve." She also called the album "decent but unsurprising".