Becca is the newest American Import to conquer Japan's eclectic music scene. Just days before the biggest gig of her life, a festival in Japan where she performed before 20,000 fans, UnRated NYC caught up with this shining bright new star to chat about how she got into the business, school life on the road, making friends, and of course, her love of Japan. She has been in the game for most of her life, and now Becca is living her dream. Read below to find out how she did it.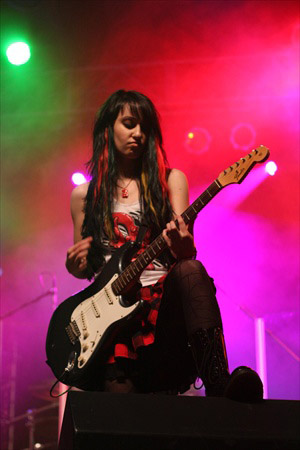 A self-described "rock chick" who was singing before she learned to walk, Portland, OR, native Becca's list of accomplishments include being discovered by Meredith Brooks and becoming a multi-media star in Japan, all while she was still a teenager.
Now, with the release of her debut album, ALIVE!!, distributed by Sony's RED, she's ready to conquer her home country. Becca's proven equally adept at belting out full-throttle, female empowering rockers like "Without You" and "Make You Mad" as she is crooning big arena-sized power ballads such as "Lose You Now" and "Falling Down."
The 20-year-old shows a maturity far beyond her years on songs like "I'm ALIVE!," her vow to live life to the fullest in the wake of the premature death of a friend, and "Turn Up the Stereo," a cautionary tale to her peers about the dead-end offered by non-stop partying. Songs examining personal relationships, such as "Turn to Stone," "Lose You Now" and "Perfect Me," show a young woman wise beyond her years.
"This is something I've always dreamed of doing," says Becca, who first picked up the guitar at 10 to accompany herself, and by 14 was writing with fellow Oregonian Meredith Brooks, who had hits herself with such songs as "Bitch" and "What Would Happen." Signing with Sony Music Japan in 2008, Becca released her first album, ALIVE!!, and began a string of personal appearances.
Two of the album's songs, "Guilty Pleasure" and "Falling Down," were used as the beginning and end themes to a hit anime series, Ultraviolet: Code 044, which will feature Becca's voice as the title character in its English version. She's also performed at the country's largest outdoor concert, Summer Sonic Festival, in Osaka and Tokyo, and has managed to attract an impressive following as much for her flamboyant presence on-stage as her ingratiating, low-key personality off it. "I feel at peace with the Japanese people," says Becca, adding that she's started taking lessons in the language from a tutor. "We understand each other. They're very respectful, kind and soft-spoken. Launching my career over there has been a unique experience. I feel very lucky. There have been so many opportunities there that I wouldn't have had in the U.S."
Growing up as the youngest of five (three brothers and a sister) in a family steeped in musicality on her father's side, Becca admits, "Music has been a part of my life before I could even talk," entering any talent competition, appearing in every musical theatre production she could.
Her earliest influences were female rockers like Cyndi Lauper, Joan Jett, Heart, Shirley Manson, Amy Lee, Alanis Morissette, Chrissie Hynde and Norwegian all-girl band The Tuesdays. Among her male influences are Steve Tyler and newer rock bands like Killswitch Engage, Blue October, Muse and Incubus.
"I love heavy rock music, but the bands I'm most attracted to are the ones with melodies," she says. "They're the ones that have influenced my stage performance." At 14, a mutual acquaintance introduced Becca to Brooks, who was looking for a young female rocker to work with and encouraged her to send a demo.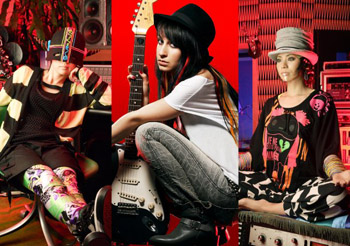 The veteran performer took Becca under her wing and the two hit it off almost immediately, co-writing a number of songs on the debut, including "I'm ALIVE!," "Guilty Pleasure," "Turn Up the Stereo," "Without You," "Make You Mad" and "Perfect Me," which was used on the hit stateside cable TV series Damages, starring Glenn Close.
"It was really fun," says Becca of the collaboration. "We bounced ideas off each other really well because we share the same creative musical goals. I was very shy and intimidated at first, but we ended up hitting it off. She's taught me so many things about being a writer and performer, having a great work ethic, things I wouldn't have known myself. Meredith's really inspired me." Dropping out of high school (though she eventually earned a degree online), Becca made music her priority and moved out to L.A., where she played the local club circuit with a full band at the Roxy, Troubadour, Key Club, Knitting Factory and the House of Blues. As quiet as she is away from the spotlight, Becca turns into a whirlwind while performing.
"Being on-stage, I get to be the person I've always wanted to be," she says. "I get to front a band, run around like I'm crazy. I take pleasure in entertaining people. I want my live show to be great, so it's something I work really hard to improve. I want to stand out. When I get off-stage, people can't believe it's the same person."
Becca's also aware of her position as a role model to women her age, and offers some sage advice to her peers on songs like "Turn to Stone," a plea to be strong, and "Perfect Me,"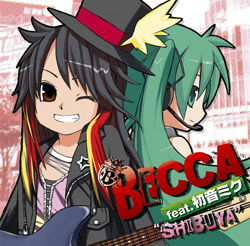 dealing with a partner's unrealistic expectations, though she's equally prone to vent on "Make You Mad" or switch the sexual tables in "Guilty Pleasure." "Girls usually allow guys to be the aggressors in social situations," she says. "'Guilty Pleasure' is about having a passion for someone that's so strong, all the rules of society no longer apply. You just go for what you want."
With a four-song EP to be followed by a debut album in 2010—whose sleeve will include illustrations from her ongoing comic book character Lady B. Story, named after her love of ladybugs and detailing her experiences so far in the music business—Becca is applying that same "go-for-it" philosophy as she prepares to tackle the American market.
"Japan is very different from the States, especially when it comes to the music industry," she acknowledges. "I don't know what to expect, but my experiences playing before large audiences should definitely help me a lot. I'm just excited to be able to show everybody here what I've been up to."
With the U.S. release of ALIVE!!, American audiences will now find out what Japanese fans have already discovered. Becca is the real deal in any language. .