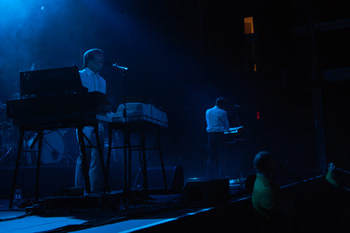 In the late to mid 90's an obscure French band named Air released a single called, "Sexy Boy," which hit top of the charts throughout the world and earned Nicolas Godin and Jean-Benoît Dunckel a place in modern contemporary culture. Since then both men from Versailles, France have compiled a body of work which include movie soundtracks [The Virgin Suicides], solo albums [Darkel], compilations [Late Night Tales: Air], and of course, Air albums [Moon Safari, Talkie Walkie, Pocket Symphony]. Their most recent album, Love 2 is a dynamic collection of songs demonstrating the band's sonic range, and when performed live becomes one part of the kaleidoscopic laser show which continues to amaze audiences around the world. Their sold out performance at Terminal 5 Click Here For Photo Gallery in late March is proof that despite the band's sudden departure from the mainstream their audio potency has not diminished; in fact, it's only gotten stronger. People of all ages sang along to songs like "People In The City," "Cherry Blossom Girl," "Be A Bee," as well as their first hit, "Sexy Boy." Air's music still carries that intrinsic beauty which separates them from rest, and the people of this city who were at their Terminal 5 show would have to agree that watching them live was one hell of a party.
All the photos in this gallery are from The Air's luminescent show at NYC's Terminal 5.

All images are copyrighted.
**Click on any picture below to initiate Lightbox Gallery.