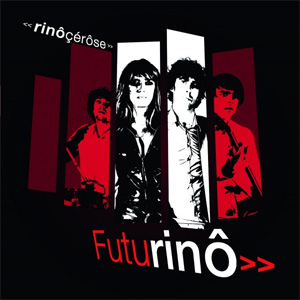 Three years after the success of their very amazing lp, Schyzophonia, the band «rinôçérôse» is back in the spotlight with the release of their new opus "Futurinô" which dropped in June 2009 (Polydor / Coop Music). This return comes with a whole new live concept, "Futurinô", under the artistic direction of Electronic Shadow for the set design and overall visual environment. Without disclosing the contents of this innovative show, we already know that the musicians are playing in a virtual urban environment, in which the characters are conjured up by choreographer Rita Cioffi. Since 2000 Electronic Shadow is an hybrid sensation : an artistic duo in the design and staging of performances (Double Vision with Carolyn Carlson) and in digital creations. Their work is displayed and has received awards around the world. The collaboration between Electronic Shadow and « rinôçérôse » transcends genres, of set design, electro or rock, to create an interactive space in which music and images are interdependent. It is a global transdisciplinary project in which « rinôçérôse » and Electronic Shadow are forming an indivisible whole. Future is NOW!
Like a comet tracing her way thru space «rinôçérôse» has a galactic halo. Once you've experienced the music you can't forget it, as it's now part of you, part of a unique cognitive experience. (pull)At the beginning, the French duet formed in 1996 by and Patrice « Patou » Carrié (bass guitar) and Jean-Philippe Freu (guitar) used to play instrumental music: a kind of magical harmony between House and Pop with indubitable energy coming from their Rock background. Partly branded "French Touch", the Montpellier based band had – and still has- a successful trajectory abroad.(/pull) Mixing high-tech visual effects and powerful songs, they manage to convey a new kind of sensation to the audience. As if "seeing and feeling sounds" was natural, the access to «rinôçérôse»'s music seems innate. The other particularity of the band is to always host and feature different singers on their albums. The vocalists performances are enhanced by the duet's talent to compose music. That's the reason why prestigious names always appear on the their records. On their new one "Futurinô" , you can hear Bnann from the rock band Infadels on the title "head like a volcano", Mark Gardener (from Ride) on "Where you from ? » and « week-end of sin », Ninja (the super energetic and sexy leader of the GO team!) endorsing the heavy duty of posing her voice on the hit single «Time Machine», Luke Paterson (Deaf Stereo) singing "panic attack » and « the heroic sculpture of «rinôçérôse» and also two french singers : Anna Muchin (from indie rock band cobSOn) and Jessie Chaton, known for its work with Justice on « D.A.N.C.E » and for being the crazy front singer of the glam rock band Fancy. Some might say "Music makes History" then let's suppose that Music is not only a moment but the summary of several. That's the way «rinôçérôse» likes to compose Music – as a fusion of many Arts and especially paintings (Art Brut), dancing (choreography), programming (computer samples), producing (studio work), digital and visual contemporary arts (Eletronic Shadow) … They could be Andy Warhol's sons in an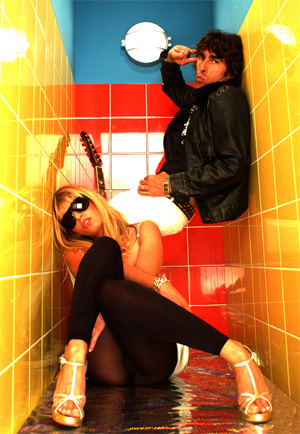 arty world as they manage to create a new form of expression. "Half way between Pop Art and Pop Artists" could be the unconscious moto of the musical tandem named after an Art Brut painting from Gaston Duf. Counting prestigious fans such as Moby, New Order, Massive Attack, LCD Soundsystem, The Roots or Iggy Pop and the Stooges , «rinôçérôse» has played all around the world from Japan to Norway and Europe to America since the beginning of its career in 1996. Today, the band is exploring a new conception of gigs by working with a contemporary art formation: "Electronic Shadow". Never the last and always the first, Carrié & Freu keeps on pushing themselves and their artistic investigations further, that's the reason why the best way to understand who really hide behind «rinôçérôse» is to see them playing live!